Introduction
Of late, the Indian contemporary art scene has brought forth a few exhibitions by senior artists who meditate upon, yet avoid ideological entanglement with, the insurmountable present and its encroaching conditions, particularly those exacerbated by rising divisions and deepening polarization. In an environment contaminated by noise, whether political, dogmatic, intellectual, virtual or all of the aforementioned, a return to core foundations and re-imaginings of what it means to be human has been necessitated. The common thematic patterns in art-making by these senior artists reveal particular creative elaborations that confront the realities perplexing us in the face of great shifts that propound an even greater sense of alienation within us. By equal measure, such artistic productions then also provide breathing space to meditate, in greater and more abstract terms, upon the multiple meanings of being and world. And they do so well beyond the immediacy of codified and affixed notions of culture, sense of origin and history that otherwise have become parameters for divisiveness along multiple lines of friction within our uncertain contemporaneity in societies that are virtually global yet localized by the limitations of territory, identity and its politics. In this view of art-making, the contemporary artwork is imbued with a transcendental power to communicate, convey and reiterate while evoking, eliciting and provoking anyone and everyone, risking a detachment from particular social, intellectual and ideological constructs to then afford establishing connections with people of all origins and walks of life—much like irreplicable postcards to humankind, each work embedded with messages that take shape along multiple lines of interpretation.
Earlier this year, senior artist Ranbir Kaleka presented his latest works in Fear of a New Dawn, an exhibition at New Delhi's Vadehra Art Gallery, that while reflecting on devastation, death and doom, also evoked a sense of emancipation. The works as a whole echoed grief and lament over loss and decay at multiple levels, yet also dug deep into the darkness to retrieve a glint of light projected towards a hope approaching, much like a catharsis in medias res, yet visible on the horizon. One left the gallery space with a sense that human life is inextricably bound to all of life, and by extension death, which connects us all to multiple dimensions and at many points of commonality. The exhibition arrived at a critical time to perhaps remind us that the figure of the artist will retain the status of the blind fable-weaver who is also the silent sage and foreboder, speaking through the creative craft and unfolding truths communicable through the visual poetics uniquely ascribable to Kaleka's greater artistic legacy.
Along similar lines, these last four weeks have brought with the wind Waswo X. Waswo's latest exhibition in collaboration with his long-term associate, R. Vijay. Their ongoing show at Gallery Espace, entitled Like a Leaf in Autumn, gathers a series of contemporary miniatures that can be viewed as singular works yet offer multiple dialogical threads that interweave further the fictional-comical all too human world Waswo is singularly known for bringing into being in collaboration with R. Vijay since the mid-2000s. The exhibition also contains never-before-presented sculptures and sculptural installations as well as independent works that explore themes and an aesthetic that takes Waswo's collaborative art practice into other thematic and compositional realms, all assembled into a show that commemorates the contemporary miniature as well as Waswo's collaborative approach to art-making with his primary collaborator and several of his associates.
Like a Leaf in Autumn adopts its title from a line in Orhan Pamuk's novel My Name is Red, as Dr. Annapurna Garimella points out in her extensive catalogue essay entitled Like a Leaf in Autumn…which swirls uncertainly that introduces the exhibition. As a critic and a well-known art historian, Garimella attributes the convergence of these miniatures as singular works to "a muraqqa' or patchwork, as in a quilt or a Sufi's robe but also as in an album of paintings." In her assessment as an art historian with almost two decades of experience, Garimella proceeds to give a brief yet detailed account of muraqqa paintings in the "Safavid, Ottoman and Mughal courts" covering an entire geography from what is now modern-day India all the way to modern-day Turkey and the Ottoman empire; engaging readers in a visual journey on a Silk road that goes back and forth from the Indian subcontinent all the way to the west.
It Never Works the Way You Think
Developing a Collaborative Art Practice from Tradition to Contemporaneity
At the outset, Annapurna Garimella's most recent writing of Waswo's work in collaboration takes me back to a fundamental question that I have been pondering all along since reviewing Waswo's earlier show Confessions of an Evil Orientalist that took place eight years ago (in 2011/12) at the same venue. Eight years later, I find myself re-thinking our understanding of contemporaneity in the context of art because the artist is deeply engaged in the craft of contemporizing an entire history of art-making through extensive research in multiple genres and fields manifest in his signature contemporary miniatures that are exhibited and collected internationally. At the present, I am finishing writing a chapter titled Waswo X. Waswo and The Politics of Collaboration in an art criticism book tentatively titled Waswo X. Waswo: The Outsider Within. In the said chapter I argue that Waswo's extensive collaborative art practice brings together the Italian Renaissance and Mughal Renaissance models of workshop and studio to build a hybrid space of art-making that inherits certain characteristics from both the Renaissance studio and the Mughal karkhaana.
More exciting, as well as interesting, is the fact that an artist originally from the US teamed up with Rajasthani artisans to bring about new contemporary artworks that innovate on form, style, visual language and thematics, creating a series of works that are remarkably singular. Even more interesting is that prior to this grand collaborative effort taking form, the same artisans maintained the marginal status that is often associated with artisans (as being peripheral to or outside of the contemporary art world) and that the conceptual and creative interjections by another artist from another culture resulted in works that not only maintain a clear presence in the contemporary art world but credit the artists as artists; who otherwise traditionally were relegated to the world of artisanry and craft. Beyond this peculiarly extraordinary creative pairing, Waswo's artistic collaborator R. Vijay is associated with Ramgopal Vijayvargiya, artist and once principal of the Rajasthan School of Arts and Crafts, who through the years produced an interesting number of collected and archived paintings that served to pave the way for his grandnephew Rakesh Vijayvargiya to leave aside his training as a B. Comm student destined for a bank job and consider the possibility of making art (as R. Vijay). However, in the greater view of how prominent Rajasthan has become as a tourist destination, the idea of art-making was reduced to selling works through different shops without formal authorial credit to then selling works as souvenirs; faraway from the world of contemporary art and especially as the type that is featured in contemporary galleries and museums.
The peculiar label of arts and crafts is intrinsically connected to the greater stereotyping of an entire place with a grand history of art-making that somehow gets diminished and limited to offerings (read souvenirs) from the travel and tourism service industry. As such, hundreds and thousands of artists maintain their status of craftspeople and artisans, stuck to inheriting a tradition of painting, sculpting and art-making that does not leave as much room for the type of innovation that the contemporary art world is accustomed to and welcomes. Apart from these restrictions, there are clear distinctions between the contemporary art world and a sea of craftspeople and artisans with quite a lot of contemporary artists hiring such unnamed skilled professionals in the elaboration of works. It is here that Waswo, from the beginning, has maintained a clear distinction in his collaborative approach to art-making, and particularly with his close associates who are credited everywhere, whether on the works themselves with proper signatures or in any publication, interview or exhibition.
Commemorating the Contemporary Miniature

While the whole process has been a unique journey for both Waswo and his associates, Like a Leaf in Autumn symbolizes the culmination of twelve years of art-making in this way. The works in the show consist of a whole new series of miniatures that also show as standalone pieces, sculptures that appear also as sculptural installations and a few independent works that reveal a visual language and a style vastly different to what we have seen, yet gelling harmoniously with the rest of the exhibition. Apart from introducing an entirely new series to spectators and enthusiasts already familiar with the Waswo X. Waswo and R. Vijay miniature, the exhibition draws its strength from the concentrated richness that the medium is known for to expand upon the fictional, comical and magical world that Waswo has constructed creatively, thematically and conceptually and put into production through the artistry of R. Vijay as his miniaturist-collaborator. Each miniature becomes a device for storytelling in depicting the adventures of a quirky character referred to as "the fedora man" and sometimes as the "Evil Orientalist"; a satirical figure who while performing an amusing comicality for viewers also projects a deep complexity uncommon to caricaturesque figures (explored in detail in my essay titled An All Too Human Cartoon Character).
Usually dressed in a white suit, a necktie and with a fedora on his head, the Evil Orientalist or "fedora man" is seen wandering, exploring, reacting and gesticulating in the mythical-fictional world that characterizes each miniature very uniquely, but that when seen in a series creates multiple storylines and pathways of engagement depending on the spectator. As such, there is an unlimited number of possibilities for interpretation and meaning-making, but the salient feature of the miniature remains the attention to detail at a thematic, compositional and plot level that works well with the size (such that viewers are immediately immersed in such works). Prior to earlier interpretations, these miniatures are now widely accepted as being autobiographical in relating the experiences of Waswo as an American-born outsider trying to engage with India, a place he has called home for over a decade and a half. The degree of complexity in such an artful undertaking in terms of what can be visually presented and how multiple streams of storytelling can converge is aptly complemented by the intricate levels of detail that characterize the miniature.
In terms of themes, ideas and motifs, the miniatures presented in the exhibition build upon themselves in depicting the experience and reactions to everyday life of this firanghi "fedora man" in his journey through India. The bucolic settings directly allude to the village-side of rural Udaipur as well as other more popular places around the city (where over the last decade and a half Waswo set up shop and embarked on the intensive project of establishing an artist studio referred widely to as A Studio in Rajasthan). The cartoon-like character of the westerner figures in all the miniatures at different levels, exhibiting the vulnerability and innocence that is stereotypically attributed to tourists, while revealing a range of expressive emotions that make the alleged protagonist rather endearing as well as relatable. However, behind the comical expositions found in the works, there remains a sadness and a sense of estrangement that visually manifests at different times in the many expressions of the character.
A Dissonant Unfamiliarity that Creates Proximity

I refer to the figure of this comical character, at times called the Evil Orientalist, as a pseudo-protagonist within the world built within the miniature because every living being depicted within is infused with a sense of character and personality that can be observed clearly (shifting the focus from the "fedora man" to everything else he is cluelessly witnessing around him). These traits are expressed through the attention to detail that in turn characterizes the Waswo X. Waswo and R. Vijay contemporary miniature, revealing certain gestures, postures, mannerisms and caricaturesque features that accentuate facial expressions and a variety of poses. In doing so, these miniatures present humans, animals, mythological and historical figures and several other entities with a sense of spirit and soulfulness that unfolds a peculiar type of communication and a dialogical engagement among themselves but especially with those who happen to encounter such works. Over these twelve years of the Waswo and R. Vijay miniatures covering a vast terrain of diversified elaboration, the greater commonality in such works is that they promote proximity at multiple levels. For one, the miniature itself is characterized by the greatest amount of detail in the most limited amount of space, such that the proximity between the foreigner in a suit and those around him, from Indians to the flora and fauna, exhibit an interpersonal dimension, a face-to-face engagement between those who inhabit the fictional world depicted within and also those who look into such works. One has to reiterate that in the case of twelve years of the Waswo X. Waswo and R.Vijay miniature that you don't look at the miniature, you rather look into it because it drives you right in.
In that regard, the space of interpersonal engagement and the encounter of the one with the other varies, depending who the one and the other is assumed to be by viewers, while promoting an entirely immersive experience of the works where questions of authority, privilege and power are relative and juxtaposed with questions of vulnerability, innocence and obliviousness. These are recurrently inverted with the quirky foreigner exhibiting vulnerability, innocence and obliviousness, while the Indian characters around him are imbued with a sense of authority and power on account of them being the indigenous who are far more familiar with their locales. The awe and wonder then emerges when a perpetually travelling figure from another culture is directly and harmoniously confronted with those who have an absolute sense of belonging; while the outsider is always hopping about on uncertain ground, deeply engrossed in his own need to understand his environs and those who surround him. Equally interesting is the characterization through gestural depiction that emanates from the works as a whole and that unveils a communication through physical expressions that seems devoid of external and super-structural forces beyond the fictional world crafted within each miniature.
Confrontation and Abstraction Between Past and Present
At the present, I see the Waswo and R. Vijay miniature detached and elusively retracted from overt ideological notions, political undertones and sociological musings. This is not to suggest that other interpretations cannot attribute meaning to such works within an ideological, political and sociological prism. After all, there is a reason that the bespectacled white man in a white suit and a fedora on his head has been satirically referred to as the Evil Orientalist by Waswo X. Waswo (the artist himself). Eight years ago, when the Confessions of an Evil Orientalist show came about, certain critics and even spectators remained oblivious to the fact that Waswo was actually parodying himself to the level of satire in response to the accusations that his earlier photographic works in sepia tone overlooked the grand modernity of the Indian nation, while anchoring on quite strongly to depictions of rural life and rural subjects in rural India. A few art-critical indictments appeared in certain writing with the artist being employed as a figure to be denounced for portraying India in a stereotypical manner that was reminiscent of colonial era depictions of Indian subjects by photographing rural peoples, laborers, animals and other forms of life that constitute 99% of the Indian populace and its vastly rich human culture and flora and fauna.
In retrospect, such criticism revealed a sense of discomfort and apprehension towards depictions of India that did not suit certain critics in that there appeared to be a conscious decision to overlook the modernizing elements that homogenously characterize the cosmopolitan life, the infrastructure and the busy settings of cities all around the world. On top of that, considering that early on both the photographic works as well as the miniatures came from a personal engagement with India by a foreigner, and that too an American (read "westerner"), an autobiographical element prominently figured in such depictions. It would have been odd for an American-born artist travelling through the vast expanse of the Indian nation (well beyond the allure that Indian cities offer), and eventually settling in a village in Udaipur, to ignore what he saw and inspired him in his immediate surroundings in a Rajasthani village; to instead show India as a bustling nation of sky scrappers, cafés, national highways, and people in corporate attire.
In that, the artistic elaborations by this artist further stirred a series of art-critical responses to such denouncing interpretations of the works. On the one hand, the gaze of the artist in framing such works was scrutinized heavily, and in my view excessively, leaving room for scrutiny of such a peculiar scrutinizing art-critical gaze. In a south Asian sense, or even an Asian one for that matter, it seemed that there was an element of shame or sharam at the thought of an American artist arriving in the Indian heartland and showing the rest of the world a view of the country that did not holistically represent certain internalized and taken-for-granted notions of progress and modernization that link India in competing terms with the rest of the world. The artist was indeed guilty of overlooking, and by extension invisibilizing the type of progress and modernization that seems to have homogenized the world at large into one big expression of desire condoning untethered construction and a uniform stylization at multiple levels; thereby ignoring a resulting homogenization devoid of a cultural specificity grounded in a history that traces back to antiquity and the origins of human life, both unique and particular to each culture and society over a given period of time.
In that sense, Waswo's works maintain a defining element in confronting his Indian art world audience with such notions of modernity that conversely undermine and invisiblize multiple subjects and their settings, namely his people in their Rajasthani village and their surroundings that figure in every single photographic work and miniature in one way or another. All these remain at the center of Waswo's engagement with India and its peoples and places, well beyond the grasp of the Indian cosmopolis and its exclusive elite, such that in his works, the city subject is actually the marginal figure, while rural subjects remain (and have remained from the beginning) at the center of his creative and compositional framing.
An Unending Journey that Became Home

From this understanding of his work with R. Vijay, Like a Leaf in Autumn not only maintains Waswo's commitment to depicting his engagement with village life in India but also arrives as a re-affirmation of his tenacity in doing so. The show is an exposition of how far and wide the Waswo and R. Vijay miniature has come, and how it has kept its unique visual language intact while producing works that are exceptionally unique. However, when seen together or in a series of combinations, these miniatures interweave a series of plots, monologues and dialogues, and stories to tell a larger tale of life in India from the imaginarium of an artist who decided to settle in a village while multiple outsider others came by and went away as tourists.
That brings me to an early general observation about persistent casteist and classist undertones that emerge in certain art criticism in the past about Waswo's work and art practice, given that he has employed creatives who otherwise would be limited to the status of artisans, craftspeople and souvenir artists; thereby opening a small space through which such highly skilled professionals get to participate in the world of contemporary art. The contemporary art world as we know it remains very labor-intensive (in the elaboration of contemporary artworks) employing all sorts of artisans and craftspeople. However, the contemporary art world rarely provides them an opportunity to break away from the mold of artisanry and a craftsmanship (which almost always refrains from attributing authorial credit to such creative professionals). In Waswo's case, financial compensation at the beginning of a work in process is always guaranteed along with co-creator credit with such artists also taking a percentage from the sales, while also participating actively in all the events associated with the exhibition of such works (with travel included).
In addition, through a process of trust-building and genuine engagement with the creation of such works as actual works of art (and not simply craft), a tradition of seniority has developed such that artists like R. Vijay and Rajesh Soni are the subject of numerable art writings that explore in depth their place and roles in the making of such collaborative works. All such works depend on the creative, conceptual, research, knowledge-based and imaginative work that Waswo puts into action even before instructing his associates step by step on how his creative vision must materially manifest through the application of their artistry. In Like a Leaf in Autumn, Waswo teams up with R. Vijay for miniatures produced over the last two years, bringing Shankar Kumawat and Dalpath Singh into the team to produce this new generation of works from the last two years, while also working with a professional group of stone carvers for the sculptural works on display in the exhibition. With Shankar and Dalpat adding their own skillset and craft to the works, there are a variety of stylistic additions such as the frames that in certain works are also located (design-wise) within certain miniatures.
As previously mentioned, each professional working with Waswo to fulfill his creative and artistic vision acquires a level of seniority through time, such that the process of growth and collaboration materializes in the works to the extent of defining a new form of authorship that is interdependent on the artist and artistan converging in the process of art-making. As Waswo affirms, the collaborative work that he and his associates perform comes to fruition much like a Rock and Roll band, with Waswo being the singer-songwriter/bandleader who comes up with a tune along with lyrics and a clear-cut idea of how a piece is to be recorded. Assembling his crew of collaborators, with R. Vijay being the prime one in the creation of their signature miniatures, the group or band then work together to produce the works that are put on display in galleries, museums and other art institutions, both in India and internationally.
Looking back, a journey that began eighteen years ago with Waswo as a tourist-artist trained in the US and Italy, eventually streamed on as a voyage without a concrete end since a lot of the experiences that marked his trajectory are deeply ingrained in his many artistic productions since the mid-2000s. As such, his journey is perpetual when seen from an autobiographical angle visually present in the works themselves. At this juncture, it seems that the artist has become comfortable with inhabiting that fictional space grounded in the magic of an Indian reality that once in a while could use a wayfarer's eyes to have audiences look upon in wonder and great awe by engaging with the works themselves. Within the works, there is a great sense of estrangement that grows into a familiarity with the fictional and uncharted world that produces such dissonance and detachment for its recurrent figure (the fedora man), who at times is the protagonist while at others performs the role of  oblivious witness to the perplexities that stir him into a wide range of emotions.
The Birth of a Decussate Art

In Jorge Luis Borges' short story The Aleph, the Argentine author inserts himself as a narrator in his own fictional storyscape with autobiographical elements that blur the lines between writer and narrator-protagonist (much like Waswo in multiple works and writings). Within his story and while mourning the passing of Beatriz Viterbo, a woman he loved, the narrator is acquainted with Viterbo's poet cousin, who has taken on the task of writing an epic poem to describe every single point in the universe. As the plot unfolds, the poet (Daneri) is faced with the demolition of his house by a nearby business set on expansion and he confides in the narrator, a fictional "stand-in" version of Borges (the author of the story) that his house must be saved because there is an Aleph within it that points to all the points in the universe. The narrator-protagonist finally sees the Aleph and in turn sees the entire universe through it. The Aleph is the first letter in the Hebrew, Arabic, Phoenician, Aramaic, Syriac, Persian and Urdu alphabets. In the Hebrew alphabet, the letter denotes the number 1, while in one of the original works of the Kabbalah from the 1st century it translates to "a number that contains all numbers" (as in a pointer to the universe). In Borges' short story, the Aleph is understood as a point in space that contains all of the other points in the universe such that anybody gazing into it can see the universe in its totality from every possible angle simultaneously sans distortion, confusion and in complete harmony of vision.
The thought of the Aleph as a point that connects all points is much like the 'X' in Waswo X. Waswo's name when it comes to his complex art practice. To begin with, more than a textual initial, it remains a visual symbol of a crossing or an intersection that works much like a pictograph. The X is a pointer to the infinite times intersections, crosses, juxtapositions, contrasts and decussations occur in the artist's oeuvre at large, in stylistic, thematic, metaphorical and visual terms. In fact, the dictionary definition of "decussation" is "the action of crossing (as of nerve fibers) especially in the form of an X." Decussations occur in nature in the rods within the enamel in our teeth, in our nervous system when nerve fibers cross each other and when successive pairs of leaves cross each other. In that regard, Like a Leaf in Autumn is introduced by Waswo "as a journey through a wilderness. Not a geographical wilderness, but a wilderness of the mind." The artist also states in his concept note that "there is a lot disconnection expressed in these works: a disconnection from society, from roots, from linear histories." Adding to these thoughts that have inspired the show, he adds that there "is confusion: a confusion of geographies and cultures, learned expectation and visual disjunction; the gardens of delight that border the danger of frontier."
Early and recent art writing on Waswo's work (in some instances including my own) use words such as cultural hybridity, liminal space, transnationalism, cross-cultural art, fusion, multiculturalism, postnationalism, the colonial, post-colonial and post post-colonial. While such words reflect big ideas that are important to consider and discuss in the context of Waswo's work if and when they are applicable, decussation is a word that I associate with Waswo's legacy in the contemporary art world, and particularly for this latest and ongoing exhibition (closing on November 16th). The artist's oeuvre reflects the word in multiple ways, from being someone originally from another culture (and that too the US, translated as "the west" by a few critics) who enters into a culture that is not his own to put at the center of his depiction rural subjects (and in doing so overlooks the allure of the big Indian metropolis and its society). At the same time, being at the "no man's land" of cultural creativity, the artist brings together ideas, subjects, and motifs that otherwise are relegated to affixed positions and places in the real world. In that manner, an artisan ascends to the status of artist, common people from Waswo's village in Udaipur occupy a prominent place in the frame of works that enter galleries and elite art institutions located in major cities. The X that distinctively characterizes his artistic name reflects the crossing and intersectional condition of his life in India, beyond his birthplace, thus become a point of departure and approximation from which to engage with his works. In that, the X is the Aleph that while confronting opposing ideas, dissimilar thoughts, contrasting figures and improbable scenarios, also does not distort, confound or disrupt the harmony of what is depicted within the works (again in opposition to the world at large with its myriad polarizations, dogmas and clashing ideologies). This is due to the extensive planning and deep research that Waswo brings to the studio table to execute these collaborative works in a precise and awe-inspiring manner.
Much of the extensive planning and deep research that goes into bringing such artistic productions together through individual attention to each work to compose a larger exhibition reflects in Waswo's work as an exceptional writer (of fiction and non-fiction). Not only does the artist show a clear cut vision for each exhibition, but particularly in this one, he presents his own views on his mode of exhibiting the works in the gallery space. I have purposefully omitted any discussion in detail of the works showing in Like a Leaf in Autumn to allow readers and viewers to have their own experience of the works. Luckily, Waswo has provided a possible walk-through of the exhibition to explain the reasoning behind the installation of the show and the arrangement of the works in different parts of the gallery. This walk-through in written form is reproduced here from the artist's statement, which is also included in the ending paragraphs of his concept note published in the catalogue for Like a Leaf in Autumn:
As a visitor enters this exhibition he or she will no doubt be first struck by an assemblage of a stoic Roman head, sliced through with a Damascus sword. To the right, the viewer will find the first miniature, Refugee, with the "fedora man" crawling onto a beach while a JetAir plane sinks in the ocean behind him. Figures sitting and strolling on this beach are taken directly from the Fraser Album of Company School depictions.
The miniature inverts a common theme of our times. Is this half-drowned man a refugee from disaster or a soon-to-be colonist? What differentiates the two? On the adjacent wall the miniature A Day on the Farm suggests our protagonist has found not only sustenance, but the good life. The hills are green and the crops and fauna abundant. There are no other people in this image, but the sky is filled with delicate depictions of the eternal, archetypal jungle, perhaps a suggestion that he imagines this new world to be pristine and open for his enjoyment.
Beneath this miniature is a long pedestal that holds three sculptures made out of Jaislamer stone, a telescope, and two Indian men laying down to peer through both ends. All are laid in a bed of sand, indicating that this may be a discovery of wreckage upon the beach. Again, on the next adjacent wall, a miniature from the Blue Series finds the protagonist looking back into the vast ocean, a platoon of white fedoras floating to shore. The drowned? Or a harbinger of future colonist/refugees?
From here the exhibition opens up into the psychological life of this man. A small miniature titled Heaven was always Below finds him climbing an unreally long golden ladder to fetch mangoes from the sky. Another JetAir plane is hovering in the distance. Paradise is in fact below, yet he seems not to realize it. The notion of falling comes into play. In an adjacent miniature we find a reference to Icarus, and also the cut wing of Jatayu… a dark, foolish, hero falling, while a heroine remains captured. Behind, on the stairwell, a large painted photograph is a self-portrait of the artist literally falling through space, yet Blake's version of God is beneath, while the boar-headed incarnation of Vishnu is above. The effect is disorienting and bewildering. The viewer is asked to be beguiled by a dizzy, perplexing, uncertainty.
As the viewer enters the lower level of the exhibition, the first thing they notice are two sculptures. One, an Indian man in Jaisalmer stone, stands proudly upon a pedestal, admiring his own bicep while his other hand is outstretched with a flattened hand. A second pedestal near him is empty, but a white marble statue of the fedora man lies broken upon the floor. Titled Push, the sculpture speaks of the rise of Asia and formerly "Third World" societies, while at the same time the West is deconstructed and dismantled. It is perhaps more a solidified fear of the fedora man than a reflection of reality.
Dreams and inner life become paramount on this level. The series Dreams of the Orientalist (part 2) takes the viewer through a wild romp of cultural reference and allusion. Similarly, in the series In the Garden of Archetypes, our anti-hero enters a surreal world where Krishna meets Aphrodite, and Diana the Huntress spars with Lord Shiva. It is a world of cultural confusion, yet strangely joined by archetypal myth.
The last miniature in the exhibition is void of the protagonist. Only a hat remains. An unreal, ornamented egg glows within the jungle. An absence seems to herald a rebirth.
As is textually observable, Waswo meticulously thinks through each and every work, their assemblage, their presentation and their exhibition, even to the extent of providing a roundabout pathway for viewers and gallery visitors to interact with his current exhibition. An element of storytelling maintains its consistency in each work and in the exhibition as a whole, but more particularly in the conceptualization at every level of bringing such a show to the world.
In concluding, Like a Leaf in Autumn reflects maturity, wisdom and the legitimacy that Waswo's art practice has acquired in the Indian art world over the last decade and a half. More than that, the show sets a standard on how collaborative art practices can bring new models of engagement between different creative and artistic players, such that authorship at multiple levels converges in the works themselves; since they are the production of multiple members, each one with something particular to contribute in their interdependent elaboration of the works. In this process, especially over the last twelve years, Waswo has set himself apart in the contemporary art world through his collaborations wtih R. Vijay for the miniatures and with Rajesh Soni for the hand-coloring of his photographic works. There are, of course, a few other artisans who enter into the workflow of Waswo's A Studio in Rajasthan and they are duly credited for their work.
As a result, the collaborative art practice that marks Waswo's oeuvre reminds of the naturally occurring phenomenon of decussation. Whether we consider the fact that his model for an art studio crosses elements taken from the Italian Renaissance model with the Rajasthani (Mughal) karkhana model, or whether we see the figure of the artist as well as his fictional depictions in the works as yet another convergence and crossing between different cultures and people of different origins (crossing fiction with reality at each step). In the same way, Waswo reflects the decussating X in his name by being a public figure who through various levels of connectivity brings people together; from the contemporary art world elite to the artisans who work with him; from the rural subjects he fondly portrays in his works and the art enthusiasts of the city; from critics who have accused him of being a "neo-orientalist" to critics who see far beyond such limited frames of understanding his work; from people who make a point of noting his "whiteness" to those who see past ethnic and racial lines to focus on the works he elaborates and the stories he has to tell. Past such unifying qualities found in the artist's work and public role, there is also the subject matter found in his works that intersects themes and figures to converge within the space of each work.
From bringing together elements and figures of Hindu mythology to traversing into the realm of Greco-Roman mythology, to bringing eastern and western art and literature into a common terrain of depiction, to references to western and eastern philosophical traditions, and cross-cultural motifs, the space of Waswo's art is built on the tensions attributed to a sense of being constantly in-between, in the frictional space of tight margins in that "no man's land" that he refers to. While inhabiting that liminal space of uncertainty, over the last decade and a half, the artist has consistently produced works that built a fiction grounded in multiple inspirations from everyday life intersecting with a rich world of ideas, books, history, art and knowledge. All of these are instrumental in creating that fictional world that is all too real and that over the years has expanded and grown as more and more work has been produced in multiple mediums but with common thematic elements.
A Glint of Light Projected Towards a Hope Approaching

However, not all is jolly and merry in the artistic expositions that are displayed at Gallery Espace because they do not exist in the realm of fairy tales and are instead drawn from experiences of everyday life intersecting with an imagination drawing from vast knowledge. Waswo himself has commented on the sorry state of affairs that marks our current human condition at a global level. With rising polarization between liberals and conservatives and between the Right and the Left, we are at a turning point that has been identified as the collapse of civilization. The rising tide of racial friction, the fall of European ideals of citizenship and governance and the contamination of Asian ones seems to further exacerbate societal disharmony and presage a sinister beginning of an end. Add to that the vacuum democracy has fallen into and the impossibility for dialogue that exists in a world where ideological and political bunkerization has too many people digging themselves into a defensive ditch from which to fling mud at a constructed opposition.
If these conditions that operate on our world and exert force upon it are to be considered in the context of this exhibition, Waswo from the outset states clearly that he envisions Like a Leaf in Autumn as a journey through "the wilderness of the mind" that reflects "disconnection from society, from roots, from linear histories" while presenting works that mirror "a confusion of geographies and cultures, learned expectation and visual disjunction" in "the gardens of delight that border the danger of frontier." In this introduction of the exhibition, the wilderness of the mind that unfolds within the works and the disconnection and confusion it reflects is overtly visible, deeply felt yet performed within the miniatures by various characters depending on the angle from which one engages with their visual-fictional world, past the protagonist-witness figure of the "fedora man."
For veteran enthusiasts of such work who have grown with it over the years, Like a Leaf in Autumn arrives like a warm breeze in the winter of our discontent. The diverse collection of miniatures that bring the show to life conveys the intimacy of craft and elaboration that the small-framed medium is known for; in sync with the extreme attention to detail in composing such images layer by layer. As for the subject matter and represented figures, themes and motifs, a particular intimacy unfolds within the small-scale frame of the miniature, where the unfamiliarity, the quirky out-of-place presence of the "fedora man" grows on viewers as they engage with such works, bringing about a new familiarity. The recurrence and habituation of his presence in each miniature relegates him to the status of an oblivious witness visually bringing attention to the greater world within the miniature that encompasses him.
The space of the miniature in terms of dimension as well as enriched detailed painting, framing and production allows for a compacted yet highly detailed view of a fictional world that is intimately tied to the real one. Yet within the frame of the Waswo and R. Vijay miniature, the intimate element of proximity between self and other, human and animal and wilderness and nature in that small-scale bucolic space of depiction reminds us that that such depicted proximity is real and attainable, beyond the schisms that abound in the world at large. In that respect, while the artist is cognizant of the many turns our world is taking and the many shifts that affect our daily lives across multiple planes, the exhibition allows for a re-envisioning (and inversion) of otherwise solidified notions and affixed positions. Much like Ranbir Kaleka's Fear of a New Dawn makes us feel (beyond mere thinking) the happenings of our world at large through the prism of his art-making, Waswo's collaborative works with R. Vijay in Like a Leaf in Autumn again play with the idea of time in a different manner.
In Kaleka's exhibition, as spectators we are able to exit the notion of real time that binds us to the everyday happenings in our world to focus on the space that he creates through the static and moving image in the multimedia, installation and sculptural format, thereby abstracting ourselves out of the conditioning limitations that shape (and entrap) our understanding of being, world, self and life. In such a manner, the idea of time is replaced and reformed by our engagement with the works and what is depicted within them. In engaging with Fear of a New Dawn, we enter the artistic space crafted through Kaleka's works, a space that then alters our understanding of time (given that the spatial dimension of his work alters the temporal one that we are habituated by). In Waswo's exhibition with R. Vijay, the fictional world presented through the miniature and the subsequent scultpural wroks, reflect a similar yet distinct functioning that puts into question our ideas about modernization, our notions of progress and development, while inviting us question when and where contemporaneity exists within the realm of the present and in the face of grand civilizational histories that brought about multiple enlightenments.
In Like a Leaf in Autumn, uncertainty towards the present finds refuge in the greater history of art, literature, art-making along with multiple disciplines of knowledge from philosophy to mythology that emanate from a more unified notion of world that existed and still exists beyond set borders, static notions of nation, narration and coloniality. In this view, Waswo's work at large can be seen as a contemporary artistic response to The Darker Side of Renaissance. Within that space and notion of world reflected in the miniatures, the world as we know it is recomposed as a world yet to be known to such a degree that both Kaleka and Waswo's work reminds of the urgent need to pay attention to our artists and what their works unveil (amid all the media noise) to drive civilization forward and not towards an irreversible position. In that, the fear of a new dawn approaching and a foreseeable leaf-like descent are both marked by a hope that is left only to build upon itself, whether we are here to bear witness to its fruits or not.
Waswo X. Waswo – Artist Website
Like a Leaf in Autumn at Gallery Espace
October 11, 2019 – November 11, 2019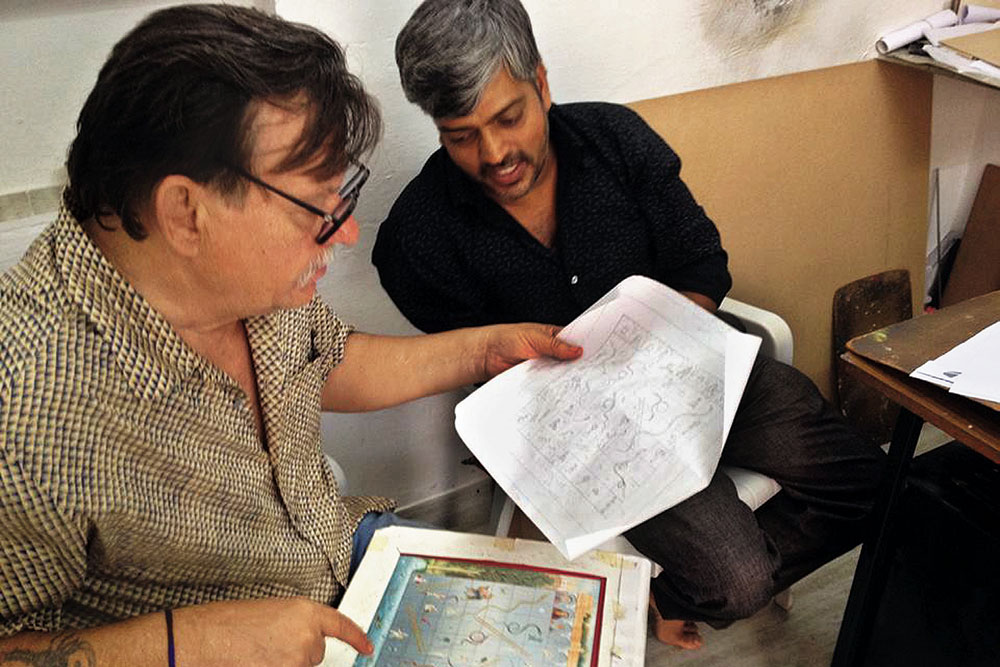 Waswo X Waswo and R Vijay: The Miniaturists — Annapurna Garimella
Photography and painting intertwine in this art documentary based in Udaipur, India. A mix of interviews, people and landscape, this is a look behind the scenes at three well-known collaborative artists.
1 hour and 13 minutes.