In a rare and unprecedented instance, two professors from two different cultures meet at the crossroads of verse and song to produce a creative collaboration around the themes of Indigeneity, marginality, war, colonization, and erasure. The result is an adaptation of Professor Ather Zia's poem "i. will. cross." into a song composed and performed by Professor Kristina Jacobsen. The poem, reproduced here via CC-ND-4.0, and published earlier in Sapiens Anthropology Magazine, is written from the perspective of a Kashmiri subject standing in front of the Line of Control that divides India and Pakistan. Professor Zia produced this poem while she was doing research at that tragic and violence-ridden makeshift border that represents the longest standing and unresolved international dispute in modern history. With India, Pakistan and China historically claiming stake over Kashmir, it has been the native Kashmiris who have continue to suffer insurmountable losses to life, liberty and property, while remaining forgotten and invisibilized under the shadows of such powerful nation states.
One could, by all means, simply present the poem by Ather and the song composed and performed by Kristina as is, and it would suffice to counter an entire century of oppression with such verses and melodies of resilience. However, there are multiple, and perhaps parallel, conversations to be considered in this creative instance where two anthropology professors and researchers from very particular specializations converge in an interplay between poetry and music that exemplifies a special (and direly needed) solidarity that can transcend borders, barriers, and other lines of division.
The points of convergence and intersection are multiple and too vast to completely enumerate here. At an initial glance, it is easy to see various parallels, considering that both Ather and Kristina are anthropologists, professors, academics, and researchers, and beyond that, both remain heavily invested in artmaking. Ather is a poet and fiction-writer who also works on cultural production, and Kristina is a devout musician, composer, performer and recording artist.
In her research, Professor Jacobsen explores Indigeneity, politics of authenticity, music as cultural performance, Indigenous language revitalization, among several other core topics within her broader academic work. Both her academic work and research are interlinked with her creative practice as a musician, composer, singer-songwriter and performer, in ways that connect her to multiple communities. Along similar lines, Professor Zia has focused on political anthropology, ethnography of occupation, poetry, short-fiction, with extensive work on the anthropological and political aspects of militarization, occupation and colonization in Kashmir (including substantial work on gender studies, enforced disappearance). Her work beyond academia also focuses on establishing interdisciplinary spaces for intellectual, academic, and creative dialogue through multiple platforms she has set up through the years.
While Professor Jacobsen focusses on questions of Indigeneity within the Native American context, Professor Zia is mainly concerned with such questions in the context of militarized Kashmir. The fact that a musical adaptation of Ather's poem "i. will. cross." about Kashmir has been made possible by an expert ethnomusicologist working on questions of Indigenous expression, erasure, and settler colonialism (in her recent research) speaks volumes about the type of cross-cultural dialogue that can be facilitated around such creative collaborations.
As such, taking this opportunity to present the work of these creatives, Inverse Journal has organized this piece according to the following structure:
1) a formal introduction of Professors Kristina Jacobsen and Ather Zia giving a summarized insight into their academic and other work
2) a side-by-side presentation of Ather's poem "i. will. cross." recited by the poet herself (for Sapiens Anthropology Magazine) with an audio recording of Kristina's musical adaptation of such verses (mixed and mastered by Drake Hardin)
3) an extensive interview (Q&A) with both professors conducted by Amjad Majid (editor)
4) a series of relevant links to familiarize readers with the work of these two scholars, anthropologists, artists, ethnographers, and researchers.
With this piece, we hope to set a new standard for a multifaceted engagement with the arts in connection with academia in an attempt to foster proximity between cultures, areas of intellectual interest, and fields of specialization. That one poem and one song can catalyze an extensive series of conversations (through a Q&A) around relevant topics and issues of interest—common to multiple peoples across the world—is a testament to the ways in which poetry and music can bridge gaps, create unity and speak of shared struggles.
Professor Kristina Jacobsen
Kristina Jacobsen holds a Ph.D. in Cultural Anthropology from Duke University, the MPhil in Ethnomusicology from Columbia University, a Master's in Ethnomusicology from Arizona State University, and a Bachelor's degree in Music (flute performance) and History (concentration: Native North America).
Kristina is an ethnographer, singer-songwriter, and cultural anthropologist. An Associate professor of Ethnomusicology and Anthropology (Ethnology), she is the coordinator for the newly founded Songwriting Focus Area within the Bachelor of Arts in Interdisciplinary Arts degree within the College of Fine Arts and the founder and co-facilitator of the UNM Honky-Tonk Ensemble.
Jacobsen's research focuses on language reclamation, expressive culture, popular music, and arts-based research methodologies. Her first book, The Sound of Navajo Country: Music, Language and Diné Belonging (UNC Press, 2017), is based on 2 ½ years of singing and playing steel guitar with Navajo (Diné) country-western bands on the Navajo Nation and was the winner of the Woody Guthrie Award (2018 IASPM-US) for most outstanding book on popular music.
Jacobsen recently completed one year of ethnographic fieldwork on the Mediterranean island of Sardinia (Italy) as a US-Italy Fulbright Scholar ("CON IL SUD"), where she was learning the Sardinian language, writing songs with interlocutors in the field, and expanding upon a research methodology she calls "ethnographic songwriting" for her latest book project, "Sing Me Back Home: Ethnographic Songwriting and Language Reclamation in Sardinia, Italy;" while in Sardinia, she also recorded an album (her fourth) of original songs collaboratively written with Sardinian songwriters and language activists; House on Swallow Street, with the Italian label Talk About Records (released spring 2021).
Jacobsen's work also has a strong applied and public-facing component. Most recently, this is seen in the culturally-immersive, week-long songwriting intensives she offers in her two primary field sites: on the Navajo Nation and, beginning in May 2022, on the Italian island of Sardinia ("Songs from the Rez" and "Songs of Sardegna," respectively). Workshops are tuition-free to citizens of the Navajo Nation and Sardinia and focus on the co-writing of songs to develop deeper intercultural understanding and awareness of social differences across lines of race, class, nation, social class, gender, and ability. Jacobsen has taught songwriting workshops in the Swedish, U.S. and Italian prison systems and to political asylum seekers and refugees in Finland with the Finnish Red Cross.
Jacobsen fronts the all-girl honky-tonk band Merlettes. She has completed songwriting tours in Denmark, Sweden, the U.S. and Italy, and has been nominated for three New Mexico Music Awards.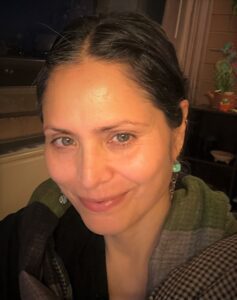 Ather Zia has a doctorate degree from the Department of Anthropology at the University of California at Irvine. She also has two Masters Degrees; one in Communications from California State University Fullerton and another in Journalism from Kashmir University. Currently she is an Assistant Professor in the Anthropology Department and Gender Studies Program at University of Northern Colorado Greeley.
Ather has been a journalist with BBC World service. She has also done a brief stint as a civil servant with the Kashmir government which in a lighter vein she refers to as her *pre-pre-preliminary fieldwork*. She is a published author and columnist. Her essays and creative work including fiction and poetry have appeared in a variety of magazines. She has also published her first collection of poems titled "The Frame." In 2013 she won the second prize for ethnographic poetry on Kashmir from the Society for Humanistic Anthropology (American Anthropological Association). She is the founder-editor of Kashmir Lit, a digital journal based on writings on Kashmir. She has been elected to the board of Society of Humanistic Anthropology (SHA) of the Anthropological Association of America (2015-2016) and is also the book review editor "elect" (2017), for the Anthropology News (Association for Feminist Anthropology Section). In 2011 she co-founded Critical Kashmir Studies, an interdisciplinary network of scholars working on the Kashmir region. In addition to scholarly endeavors the group strongly focuses on applied and engaged anthropology projects.
Ather is currently finishing her book, which is to be published by Washington University Press (Book Series on Decolonizing Feminisms: Antiracist and Transnational Praxis). Her ethnography is based on her doctoral research on enforced disappearances, militarization, gender, and human rights abuses in the Indian administered Kashmir. Amongst other reputed institutions the Wenner Gren foundation, American Association of University Women, International Peace Research Association Foundation, and Human Rights Center of Berkeley have supported her research.
Ather's other major writing projects include co-editing a reader on Kashmir titled They Gave Us Blood': Narratives of Normalcy, Sacrifice, and Terror in Kashmir (University of Pennsylvania Press) a non-fiction anthology based on ethnographic narratives of politics in Kashmir with Harper Collins and an anthology of ethnographic poetry based on her fieldwork in Kashmir titled, "Field In-verse."
Ather is also the founder/editor of e-zine based on Kashmir titled Kashmir Lit: An Online Journal of Kashmiri & Diasporic Writing.
i. will. cross.
by Ather Zia
my love,
i am at the line of control—
inching—
tonight, the moon is graying
the darkness—perfecting itself
or so I hope—
the breeze is weakening
like the old tyrant's hand
i. will. cross.
my love
senses are crammed—
bright, blinding searchlights, again—
i might as well be visible from space
barbed wires, drones, electric fences,
empty bottles of liquor. i taste blood.
guns, lights, smoke.
coughing, cursing, soldiers, dogs—
and
I see the dark beauty of our moonlit meadows
your perfume on the other side is a paradise
i. will. cross.
my love
waiting to hold you has been such a joy
how many lines will i have to cross?
or infiltrate, as they say?
i mind no more—
i. will. cross.
my love,
i fear this year's snow will again be sparse
our thirst will only grow, i should not wait
i am a lover who is labeled a terrorist anyway
i. will. cross.
my love,
i will always be in love
with your wadiyan*
your wildflowers. your wilderness.
and winds that say my name.
and your waterfalls.
wading in growing puddles of blood
i. will. cross.
i. will. cross.
i. will. cross.
* valleys
Poem Recitation by Ather Zia
Song Composed and Performed by Kristina Jacobsen
Interview with Kristina Jacobsen and Ather Zia
— by Amjad Majid
Amjad Majid: First of all, thank you both, Professor Kristina Jacobsen and Professor Ather Zia, for taking the time for this email interview that we hope develops into a conversation. I would like to start off by asking you, Kristina, how did you come about composing and then recording this song? What is the background story of how such a creative collaboration came about with Ather?
Kristina Jacobsen: Thank you for the invitation! It's really an honor to be in conversation with both of you. I came across Ather's poem when it was published in the journal, Sapiens.org, in spring of 2020, as part of their annual poetry competition. I was living in Abu Dhabi (UAE) at the time, and was immediately struck by the poem, and particularly by the repetition and the punctuation of the line "i.will.cross." after each stanza. As I read it, a melody for that line, or what later became the refrain for the song, came into my head. I reached out to Ather, to see how she felt about me putting her words into a song, and she graciously agreed to the collaboration.
Next, I figured out the song form, retaining the parts that resonated most with me, personally, and trimming some lines to make it work for the structure of the song and the chords. I also played with the timing, the guitar accompaniment patterns, and, finally, worked up some vocal/guitar lines (called 'twinning') for the song's introduction and the instrumental section in the middle of the song. I also got some guidance from Ather on pronouncing the Kashmiri word (my first, ever!) in the song, "wadiyan." I was also drawn to the poem because of its specificity but also its universality, as a love song to the land that reared you and that you cannot reach. This is true for so many human beings!
Amjad Majid: Ather, thank you for this wonderful opportunity to engage with a side of your work via this interview. You have been writing poetry for ages and in many ways your poetry is informed by your work as an anthropologist. In other spaces and platforms, you have written about or referred to the intersection between your work as an anthropologist and your creative explorations of (ethnographic) poetry and even short fiction. Could you tell us how these are interrelated and how they influenced the creation of "i.will.cross", especially considering the fact that the poem came about while you were conducting fieldwork?
Ather Zia: First I must thank Kristina for her kind and generous rendering of the poem in her voice and music. This is a first for me. I am very excited to be a part of this project.
"i.will.cross" came to be indeed during fieldwork when I realized deeply how criminalized it is for Kashmiris to even think of crossing the LoC or the Line of Control. The line separating the two Kashmir's is notorious: not only for the brutality that these superimposed lines of separation wreak on people; its intense military technology and the sheer number of troops present there but the fun fact that it is one of the few landmarks seen from the international space station. So brightly lit it is. By international law it is a temporary line till people exercise their right to self-determination.
In 2013 Reshma Bi, a seventy-year-old Kashmiri woman in her native village of Charonda, in the Uri sector from the Indian-held side, tried to sneak into the other side to visit her sons. A grandmother's simple wish to see her sons and family turned into a full-fledged war between the two countries. Around 2004, the LoC was opened for trade between the two parts and there were some visitations, but it has generally been fraught. The region used to be replete with scenes of families on either side meeting on either banks of the river that flows through. You could see a grandmother on her death bed with the relatives on the other side catching her glimpse, couples being blessed, new babies being held up, letters being floated on the water. The heartbreaking scenes are endless, but are not allowed anymore.
This line is haunting. How many Kashmiris had been killed while crossing this line? It is called Asia's Berlin Wall. It has separate families and kept Kashmiris separated for the last 75 years. While there overlooking the area, the lines to this poem simply descended on me, which is why you also hear it as a simple affirmation of what a simple Kashmiri militant or not thinks, "i.will.cross."
Amjad Majid: I again want to direct this question at you, Kristina, in relation to your engagement with music in a broader sense. What does music composition and performance do for you beyond the academic work, knowledge production and research that you engage with as an anthropologist and as an ethnomusicologist? Both you and Ather do not compromise with your love for artistic exploration even though both of you could afford to stay within the formal limits of your respective professions by not doing anything else. That yet again is another quality that both of you share, working as professors during the day, and as artists by night. What drives this non-conformity and the desire to not only create but to go to great lengths to perform, present, and share such creations with the world?
Kristina Jacobsen: Thank you for the welcome and insightful question. When I worked as a Park Ranger on the Navajo Nation and was singing/playing with Diné country western bands, I used to introduce myself as a 'ranger by day, country singer by night,' so I appreciate the day time/night time distinction; they can, indeed, be different worlds!
For me, making songs is both about personal expression and the ability to express the affective dimensions of research that sometimes get left out of a book or an article, or out of our fieldwork narratives altogether. It allows space for the 'singing between the lines,' and for what sometimes gets left unsaid, and creates a space for affect/feeling that propels me forward in different ways than ethnographic research alone might do.
My entry point into cultural exploration has always been through song, and through language, so formalizing this process, through what I'm now calling "ethnographic songwriting" in my new book project, is a natural extension of that world. As a child, I learned Norwegian through singing Norwegian folk songs with my dad; my first journey to Navajo Nation, as a teenager, followed intensive study of the Navajo language, and my first decade in Diné spaces was as a language learner rather than as a researcher. More recently, I've been studying the Sardinian language on that Italian island, and learned much of my Sardinian through writing songs with my language teacher, a poet and retired school teacher. Suturing song to language seems to cement the language part in our brains in a different way. It's probably also why I've now written, or co-written, songs in Danish, Norwegian, Italian, Sardinian, and songs codemixed between English and Navajo (Diné bizaad). So, for me, singing songs in other languages is an entry point not only into language, but also into other worldviews, identities, stances, vocal styles, textures and tone colors, and sonic and sensory worlds (although I don't hear it, friends and musicians who know me best, for example, tell me that my singing style changes significantly when I sing in Italian versus when I sing in English).
I am also inspired by many of my colleagues in ethnographic poetry including Ather, Misha Cahnmann-Taylor, Renato Rosaldo and many many others, and I agree wholeheartedly that creative writing and social science research are not mutually exclusive. In fact, I think they feed one another in unique and inimitable ways. And I am inspired by other songwriters, most of whom are not also scholars, who write ethnographically "thick," culturally informed songs where they bring us into the lifeworlds of people we may not otherwise know and based on songwriters' own lived experience; John Prine and Mary Gauthier, who in her album cowrites with US army veterans, provide excellent examples of this kind of songwriting. I believe that songwriting and ethnography can inter-animate, energize and catalyze one another in ways that sometimes we cannot even fathom or anticipate in advance but that can make both a song and an ethnography much richer.
As to your question, above, about "affording to stay within the formal limits of my respective profession;" I'm not sure I could do it any other way! To some extent, writing songs has become an essential component not only of myself beyond my identity as an academic; it is also the thing that energizes me to do the other, more academic work, and the increased blurring of boundaries between the two has creating new synergies and avenues for deeper exploration, both ethnographic and artistic; it's also a tremendous aid in building relationships in communities where I am a newcomer. Making music and making songs with others is an incredible bridge builder. It allows me to be a musician and artist, first, and a researcher second, third, fourth, or, sometimes, not at all.
Lastly, I believe songs really work in the world. A powerfully written song can change the chemistry of a room. As songwriter Mary Gauthier says, in songwriting, we "comfort the disturbed and disturb the comfortable." I feel very committed to these premises, both in my solo songs and in my cowrites.
Amjad Majid: Ather, being familiar with your academic work and especially your poetry and fiction-writing, one has to ask where anthropology and ethnography end and where your poetic work begins, and whether you see any overlapping between these? How does ethnographic fieldwork end up in such powerful poetry? What has that journey from academic work to poetic craft been like and where do the two meet to bring about this subgenre we know as ethnographic poetry, anthropoetry, and antropoesía? I am mainly interested in finding out what power and importance your work as a poet has for you that cannot be compensated by your work as an academic, knowledge producer and researcher…you have cited Renato Rosaldo who states his disbelief in the idea that "creative writing and social science research" are mutually exclusive. You somehow manage to make time for your literary pursuits, writing poems, couplets and Ghazals not just in English, but in Kashmiri and other languages as well, while also producing a significant volume of short fiction, including children's literature.
Ather: I have talked about this in my book Resisting Disappearance which carries some poems written in the field. Part of decolonization knowledges is also to traverse writing genres. When I formally began my fieldwork in 2008, I was trying hard to stay true to the professional promise of an ethnographer. Sometimes with a pen in hand, most often not, I watched and saw; heard and listened; said and spoke; felt, realized, and recorded. There was always a dual lens before me—one belonging to the trained ethnographer, who was deliberate, measured, and careful not to let myself seep into what I was recording, and one that was not only seeping out but also being seeped into. This second one was the ethnographer-poet looming like a shadow, and materializing without permission whenever the opportunity arose. In the field, poetry was like a malaise, a constant ailment. I call it an ailment because as an ethnographer, it was not supposed to be part of my methodological toolkit.
At first, I did it for personal satisfaction, but I continued to think about how it affected my work as an anthropologist where I had to keep subjective play in check. In this stringent exercise, which was part restrained passion and part deft calculation; I asked myself, "Where do I keep my poetry?" When the witnessing in the field arrived as a poem, what would I do with it, apart from recording it and shoving it under the pile of "real" field notes? Should I stop taking this side of my witnessing the field so seriously? If, after exhausting all means of understanding the field ethnographically, there was still this creative force pushing me into thinking through poems, who was I to stop it? But the question also arose as to why I would stop, and I had no answer to that. Without using the lens of any disciplinary constraints, I know poetry is an authentic expression on its own and needs no validation. My discomfort came with deciding where to fit poetry into my ethnographic data. As an ethnographer poet, how valid would my research be if I allowed for a deeply subjective experience of poetry? Would it take away from or enrich my research? These are not my current misgivings, but they certainly were when I began my work as an anthropologist and poetry continued to be one of the default modes for me to comprehend and process what I saw.
Without directly connecting them to my ethnography, I kept writing and publishing poems that emerged from the field. To put it indelicately, poetry became something sly that I was doing next to my ethnography. I did everything to keep my anthropologist and poet sides separate. I took some time to understand and own ethnographic poetry, not because I was unconvinced but because my understanding was that it was not on par with "serious," "scholarly" ethnography. I continued to use poetry as a form of ancillary documentation that was cathartic, and as a meditative space for my own self.
Around 2011, I came into the ambit of anthropologists who had not only paid their theoretical dues to ethnography but had also served its humanistic and creative side. Amongst these are the names that Kristina also mentions like Renato Rosaldo, B. J. Isbell, and Misha Canhmann-Taylor. There is, of course, Renato Rosaldo (2014) who has offered the paradigm of "antropoesía" for bridging the cultural and social scientific fields of poetry and anthropology. Through the lens of antropoesía in contemporary anthropology poetry becomes a part of, if not entirely complementary to, the ethnography. Anthropologist-poet Adrie Kusserow, on a panel on ethnographic poetry (2016) posed the questions, "What 'evidence' does ethnographic poetry claim? And how is this evidence different from that produced by other forms of ethnographic writing?"
These questions were productive for thinking about my positionality as a Kashmiri woman in this anthropological research. In the context of the evidence that ethnographic poetry claims, as I note elsewhere, "poetry makes one a witness, rather than just an archivist. One's life-blood, all that is political and emotional, lived, remaining, and forgotten, coagulates into a poem." This is also to say that I am a native anthropologist, and the field unravels before me in all kinds of formulaic and non-formulaic ways. Ruth Behar (1998) states that the line between the observer and the observed cannot be easily drawn, but in my case, it becomes apparent in the poetry.
I understand my ethnographic poetry as evidence of an "ethical surfeit." The ethnographer-poet directed by training faces a surfeit of witnessing in ways other than objectively, and this happens to all anthropologists, not just native anthropologists. Furthermore, because participant observation as a methodology demands empathy with our research communities, the ethnographer-poet is doubly prone to experience and articulate the witnessing both in the field and the realm of imaginary. In my case, there was a third dimension, since I am also a native ethnographer. By terming this surfeit as "ethical," I argue that the ethnographic poem is a "datum" crafted from observation and affect, and in the context of which the ethnographer-poet bears the most honest of evidence. Hence, it is an ethical surfeit. The ethnographic poetry should be read as a link between the ethnographic prose and the anthropologist-poet; even as they exist in complementarity, they are not co-dependent.
The ethnographic poem is a moment of surfeit, where reason seeks the logic of surplus and escaping measured words. For me, an ethnographic poem becomes a moment of psychic participant observation, where there is an empathy, an experiencing, and a witnessing; a feeling and conveying. Translating the field is a dual labor—providing witness as a professional and as a dreamer. Not that poetry is dreaming, but there is an ethical responsibility that descends through the device of language for what remains beyond translation in the shorthand of the represented world. Thus, as an ethnographer-poet, what you write about becomes a double responsibility, as one must render as an ethnographer and ethnographer-poet. Ethnographic poetry is a moment of surfeit as well as a catharsis of the excesses we as ethnographers have chosen to poke, dissect, and understand. I often liken my role as an ethnographer-poet to holding a wound—a wound that is simultaneously in the body of the other and reflected in yours. Thus, it is a wound that you also have; you will understand the pain without much pain, and doubly so. This poem also give you a sense of this process.
Amjad Majid: "i.will.cross" as a poem is a reminder of a larger history and a struggle that took the direction of an armed resistance, but the notion of crossing borders, and breaking through barriers and walls set by the powerful is a common motif that we find in Indigenous music and folk literature. In particular, this is true for communities and peoples who have experienced deterritorialization from, or internal displacement on, the same soil where they survived and carried out their way of life for centuries and millennia. Kristina, how do the metaphors and the imagery in Ather's poem relate to your own studies and explorations of Native American lyricism and Navajo Country music? Are there commonalities in the messages, affirmations and the laments expressed in such music that are also present in a poem like "i.will.cross."
Kristina Jacobsen: I love these broader linkages you are making and the lateral questions you are asking. They are provocative and I'm not sure I'll answer them fully, but I'll give it my best stab!
In my own collaborative songwriting practice in Sardinia, a contemporary colony of the Italian nation-state, themes of deterritorialization and external displacement came/come up frequently. Sardinians, in their own way, also identify as Indigenous, although this can and should be complicated in a variety of ways, including what it means to be autochthonous to a place. On the latest album House on Swallow Street, an album of cowrites with Sardinian singer-songwriters that will accompany the new book project, there are songs about being "in the Mediterranean middle of nowhere" and senses of both pride and marginalization in that "nowhereness" ("On a Rooftop," with songwriter Giuseppe Bulla), and also about Sardinian "brain drain" and the nostalgia of missing home and country (the island of Sardinia) when forced to leave and make one's home elsewhere, for work and to support your family ("Semus Torrande," with songwriter Enrico Spanu/The Heart and the Void).
Themes of deterritorialization and internal displacement, specifically, are also very much a part of Diné history and came up frequently in my fieldwork on Navajo Nation: Diné communities today live on a small fraction of what is their ancestral land, known as Diné Bikéyah or the Navajo homeland. In addition, families are often involuntarily severed by a parent needing to leave "the rez" in order to work in a "bordertown" surrounding Navajo Nation, or to live even further afield in cities like Phoenix, Denver, Albuquerque or Las Vegas in order to support one's children and/or loved ones. This is different than the Line of Control, but social divisions between life "on rez" and "off rez," and stigmas that can accompany these identities, are quite real, and impact Diné communities in profound ways, today. So, the rhythm of leaving and returning is an active part of both Diné and Sardinian contemporary experience.
To answer the last part of your question: when singing and playing with Diné country western bands, we almost always sang "cover" songs rather than originals, so it's a slightly different conversation. But country songs, as I document in my first book, are in essence story songs that document displacement, loss, and nostalgia for kinship and ties to land now disappeared. I argue that this is part of why country music resonates so deeply with Indigenous musicians, dancers and listeners, not just on Navajo Nation, but around the globe. As one fellow musician and interlocutor voiced this early on, referencing the divide so often created in popular media between "cowboys" and "Indians" in Hollywood and beyond: "we're the real cowboys."
Amjad Majid: Ather, is there a common space of dialogue that creates solidarity within the groups and communities of anthropologists (from different cultures) that you participate in or have participated in? Is there a common ground being established towards a unified understanding of marginalization and Indigeneity as researched and explored in your academic community or communities? Here I refer to going beyond the great solidarity and the parallels we draw between the Kashmiri and the Palestinian struggles and the dialogue that has been shaping up.
Ather Zia: The world is fast-moving together for closer conversations on how to fight injustices wrecked by the neo-imperial and neoliberal order globally, including issues ranging from ecocide to maldevelopment to occupations and dispossession of local and indigenous peoples. Even though India has benefited from its postcolonial location and is heralded as the largest democracy in South Asia, however imperfect, its neocolonial desires manifest and solidify in Kashmir. In Kashmir, India has weaponized electoral democracy as a "politics" to camouflage its military occupation. Full contextual understanding, in the bright glare of history, for any issue is a stepping-stone towards forging solidarity. This process requires an amalgam of situated knowledge, genuine acknowledgment, recognition of one's own positionality; all focused to alter the status quo and push a just resolution. 
It is important to analyze and connect the struggles of people on the edges, displaced and dispossessed people globally, knowing of the sanctioned ignorance forces us to put them in silos; obscuring the active interconnections of neocolonial processes midwifed by the global neoliberal capitalist nation-states. Our world is one of "unfreedoms" inherent in the necropolitical, neoliberal nation-states; whose imperial and colonial agenda is to encourage each other and convince their masses that giving up their freedom is akin to sustaining them. Unfreedom manifests in the technologies of torture: the undue and unnecessary death that are being handed to marginalized populations across the globe and which look uncannily similar. The counter is to recognize the interconnectedness of global oppressions and to create solidarities to dismantle them. The recognition that Kashmir is under the Indian military occupation is a narrative that is taking centerstage despite the Indian government peddling a different narrative and in that we are finding indigenous scholars and activists and academics working through decolonial praxis coming together to lend genuine solidarity to Kashmir.
Amjad Majid: I would like to ask both of you about this joint creative effort that potentiates the birth of new solidarities, intersectional solidarities that might be more easily facilitated by the study of parallel histories, ethnographies, and a common interest in research topics ranging from Indigeneity, postcolonial studies, settler colonialism and colonization. One can easily assume or suppose that given your academic work and vast research that there are commonalities. However, we are not discussing a joint paper or a seminar that both of you could have participated in, in the capacity of professors and knowledge producers. Here, something unprecedented has taken shape; a creative, musical, poetic, and artistic intersection of sorts that is transcultural and cross-cultural at the same time. Why would two professors who could easily dialogue vastly in academic and intellectual terms choose to collaborate creatively in a joining of verse and song, and a merging between poetry and musical composition? What does this signify and what greater meaning is to be found in this unique creative elaboration?
Kristina Jacobsen: I think making art with someone is a different kind of project, with something 'concrete' to show in the end. For me, this is quite different than, say, if Ather and I were to co-author an article or a book, because the reach of a song or a poem is potentially so much broader and reaches a very different kind of public. When I publish an article or a book, a miniscule, fairly esoteric group of scholars, many of whom also have PhDs, will read it. With a song, anyone can potentially listen to it and "get" it, regardless of their formal educational training. I love this, and thus see creating songs, poetry and other forms of art as part of my own community-engaged, public-facing work as a "scholartist" and as a human. Songs and poetry translate differently.
Ather Zia: I think anthropologists, being the most self-reflexive amongst social sciences as well as respectful of all writing genres including broadcasting, have had a tradition of traversing genres in a practice that is now growing. The current moment is ripe for crossing genres and creating knowledge that does not remain only within academic silos. The day Kristina reached out to me, my joy knew no bounds. To have a poem sung by not just a singer, but someone who understands the nuances of culture and positionality and then embarks on amplifying the words was a dream come true. I cannot thank Kristina enough for opening up this possibility.
Amjad Majid: I would again like to learn more about the notions of Indigeneity and being "native" that both of you articulate through your respective artistic crafts as poets, as songwriters and lyricists and then also as academics, researchers, and scholars. Is there are a commonality to be found in such notions of articulations of Indigeneity? How can a model or a framework for solidarity and unity be articulated from such notions of Indigeneity coming from two or more cultures that are vastly distant in terms of geography, culture, and language? Is there are a space of struggle that brings forth a common understanding and that can become a common space for empathy?
Kristina Jacobsen: I'd like to start by saying that I am responding to this question as a non-Native ally, with family origins in Scandinavia, and as a scholar and artist who seeks to boost the signal of artists and scholars in many of the communities where I've done fieldwork, including Navajo Nation, Appalachia, and Sardinia. My understanding is that learning to be a better ally and seeing my own unearned privilege more clearly is something that gets continually fine-tuned and revised over time, but is always in process, based on input, collaboration, and conversation.  So I'll give you my take based on my process as of July 2021, with the hope that my own understandings of belonging and Indigeneity will also continue to grow and transform over time.
In my own ethnographic work, themes of being, belonging and authenticity, as this is manifested through things like one's heritage language abilities, place of residence, physical appearance (phenotype) and gendered identity, are frequent visitors. And this idea of being "Native enough," or "Sardinian enough," based on these many markers, is often a source of tremendous struggle for those not deemed to be "enough," by both insiders and outsiders to that culture. When I started writing songs in 2005, these are themes that also began manifesting in my songs. So, for me, they are broader and fundamental life questions that I seem to be on a mission to be in conversation with others about.
Models for solidarity in scholarship might include, among many other things, a focus on resilience rather than only on cultural loss and devastation. In my experience, Diné culture workers, activists, teachers and artists are doing so many amazing things to elevate Diné culture and to lift up those around them; these stories rarely seem to make it into the news media. Other models might include the creation of spaces—including poetry and songwriting workshops—that encourage and allow Diné, Kashmiri, Palestinian and other Indigenous communities to share stories, experiences, and create collaborative art (what I refer to as cowrites), together. I am very excited about becoming a part of such facilitations and what these might look like in collaboration with a broad range of communities currently experiencing dispossessions of land, language, and music.
Amjad Majid: How does one understand the colonization of temporality and (definitions of) time dictated by a very concrete and homogenized adaptation of modernity that seems to weave a common net of capitalist expansion and technology-driven (industrial/state-sponsored) consumerist culture? After all, wouldn't both of you agree that such a notion of temporality and the so-called modernity that defines it binds multiple marginalized, occupied, and colonized communities together (and not in the best of ways)? Here again I wish to learn from you about specific definitions of Indigeneity that arise from the state and condition of being marginalized, invisibilized, occupied, oppressed, deterritorialized and/or dispossessed. It seems that the diverse Indigenous communities of the world, from the Andes to the Appalachians and the Rockies, all the way to the Himalayas and all the landforms in-between seem to have quite a lot in common. One of such commonalities seems an alternate existence outside of the time and temporality dictated by states, governments, corporations, political parties, and other vested interests…
Kristina Jacobsen:  Here, I think I want to avoid making a clear-cut separation between "traditional" and "modern" with respect to time or attitudes toward environmental stewardship, for example. Because, at least in a North American context, Indigenous peoples are sort of pigeon-holed as all loving the earth, hugging trees and being environmentalists. This doesn't allow the space for the broadest range of identity expressions, which I think can be very stifling for any human, and for Indigenous artists at this moment in particular. I think people can be both successfully Indigenous and modern, and do so every day. But I think this looks very very different in different spaces. So, part of what we as ethnographers can learn to look for are these cultural differences between and across cultures around the globe and to pay attention on purpose—a sort of mindful ethnography—to these subtle differences. This can be done in a number of ways. One of them is through actively engaging ethnographically informed songwriting, which I define as a) songs we've written inspired by the fieldwork experience b) songs we cowrite with others, based on shared experience or story we wish to tell, collaboratively c) life stories elicited by the listening to songs.
Amjad Majid: Would you make a distinction between Indigenous cultures and tribal cultures? The way we see and understand certain Indigenous communities and cultures is not the way we perhaps approach Norse, Goth, Gaelic and other cultures. What is the place of colonization in the way Indigeneity is articulated at the present?  Here I am thinking of Eve Tuck and Marcia McKenzie's seminal book Place in Research: Theory, Methodology, and Methods (2015, Routledge) as cited in a paper on Indigenous perspectives on music education by Héctor Miguel Vázquez Córdoba that Inverse Journal (re)published in our Music section. Vázquez Córdoba specifically refers to the fact that "the colonizer views Indigenous cultures as something from the past, extinct, without a place in the present time" while citing Tuck and McKenzie's work on "critical place inquiry." Oddly, one could say that "the colonizer" also views colonization "as something from the past, extinct, without a place in the present time" thereby bringing forth an invisibilization and erasure of epistemological proportions especially in the way histories are written. How do such critical observations from academics and theorists from Latin America to Canada apply to your respective communities and fields?
Kristina Jacobsen: In both my training and my work in Indian Country (as an anthropologist but also in various other capacities), I see and understand Indigenous identity first and foremost as a political identity. So, you are a citizen of/enrolled in a tribal nation, rather than a member of a tribe. In a US context, this gives these identities weight and legitimacy, on a political level. But these distinctions themselves, between "tribes," "nations" and the many other designations that exist in between, are also the product of colonial categories, and sometimes serve to divide more than they serve to unify/create solidarity across people groups. Making these processes more visible—whether that's through artmaking, activism, or awareness raising more broadly—is an important part of the decolonizing process.
Amjad Majid: Kristina, "i.will.cross" contains imagery that might be found in music that you may have either studied or in the lyrics to songs you might have written and composed yourself. In particular, there is a poetic subject with a specific voice that is deeply connected to and integrated with a notion of nature, ecology and environment that are revealed through imagery and metaphor in certain verses. The bond between nature—what we Kashmiris would call "Kudrat"—and the Indigenous is a recurrent theme in all sorts of music. How does that relationship unfold in the type of work you have either researched or produced yourself as a musician, singer-songwriter and composer?
Kristina Jacobsen: Place, land and territory play a central role for many of my interlocutors, colleagues and friends, and thus I've spent lots of time thinking about the relationships between placemaking, self-making and art. In Sardinia and Navajo Nation, most people have a homeplace or home village that they will reference as being "from," even if that's not a place they grew up. It's where your roots are, the place you call "home," and possibly also where your umbilical cord was buried.
Amjad Majid: Kristina, from your engagement with Ather's work, whether poetic or academic, can we think about a globalized solidarity between cultures that share elements of erasure, transculturation, and an Indigeneity under threat of disappearance or continued siege while also formulating a resistance to maintain aspects of their identity intact through music and poetry? What can we learn from one another through creative exchanges such as this one that materialized in your composition of a song with lyrics that come from a Kashmiri poet's verses? Can music-making, songwriting and poetry communicate a shared experience between distant cultures with the potential of crafting a globalized solidarity that crosses oceans and traverses mountain ranges?
Kristina Jacobsen: Personally, I find Ather's work—both poetic and academic—to be very powerful. To answer the last part of your question, first: I think so, but I'm interested in Ather's thoughts on this, too. I don't think that music is automatically a "universal language," and sometimes it is treated as such; I think that collaborations, and songs, need to be written with care. But I think that collaborative music making, certainly, can be a tremendous bridge builder, yes. This is something that ethnographic songwriter Kate Reid does a great job of articulating in their recent co-authored article, song and video with Chelsea Hauge (2019).
Amjad Majid: Just out of curiosity, and this is within the domain of pop culture, have you heard the collaboration between The Halluci Nation (a.k.a. A Tribe Called Red) and Yasiin Bey, Narcy & Black Bear? What do you think collaborations like yours with Ather and the ones of minorities or people who have been historically marginalized from different locations and geographies can achieve, especially if taken to a mainstream or popular front?
The Halluci Nation (a.k.a. A Tribe Called Red) and Yasiin Bey, Narcy & Black Bear: https://www.youtube.com/watch?v=_MD8IK19aec
The Halluci Nation – Burn Your Village To The Ground (Neon Nativez Remix):
https://www.youtube.com/watch?v=GNi__fnadTM
Kristina Jacobsen: Thank you so much for calling these songs to my attention. They are both powerful and unique in their own way, and I'm struck by the resilience, anger and ultimate joy they both convey.
In The Halluci Nation's "R.E.D.," I am particularly struck by the crosscultural collaboration evidenced in this song between First Nations (Mohawk and Cayuga Nations, specifically), American, Iraqi and Canadian citizens, and the alliances solidified between African American, Indigenous and Middle Eastern artists and performers, as well, as evidenced by Yasiin Bey, Narcy and Black Bear Singers in the song. The scenes of Yassiin Bey and Narcy in the Desert (perhaps in the UAE, where Narcy grew up?) as they dialogue across nations and life experiences is also really striking, particularly given how rarely the "Middle East" shows up as a positive space for creativity and artmaking in a U.S. and Canadian context ("Yasiin and Yassin, you should heed the hour"). I am also struck by the emphasis on the futility and harm caused by geopolitical borders in the scene when Yasiin and Narcy are at the checkpoint as the voice of Yasiin references "Alie Nation," which seems to allude to both alienation but also translated as 'nation of wings,' is the sonic backdrop of the video. Sonically, the northern contemporary style of Black Bear Singers punctuates the song in a really effective way, with the falsetto voices adding further drive and pulse beneath the rappers featured in this "powwow-step" sound.
"Burn Your Village to the Ground," as response to #NODAPL and #WATERISLIFE ('tó éí íiná' in Navajo) but also as commentary on representations of Indigenous people in film, from early silent black and white Buffalo Bill footage to footage of Apache Crowndancers and a Pueblo Feast Day, and then to MMIW and Oak Flat in Apache country not far from where I am, is also really powerful. And the emphasis on dancing, and movement, and dancing and movement as not just survival but resilience and hope toward the future. Watching this, now, I am moved by the line, "nobody is illegal on stolen land," and am reminded of the atrocities that have come out in the news in the last few weeks [at the time of this interview] on the 1000+ deceased children whose bodies have been found in unmarked graves adjacent to Canadian Residential Schools in British Columbia and Saskatchewan.
This is not unique to Canada, and, as we are learning in recent articles, is also part of our recent past within the Boarding School system here in the U.S., which still runs and operates a select number of schools through the Bureau of Indian Affairs including on Navajo Nation. These complete erasures of young lives, and the ability of the Catholic Church to cover it up for so long, is part of the settler colonial process. Erasure of land is the bedrock for the erasure of language and culture, and, ultimately, personhood, including the people these children would have grown up to be and become. The repeated reference to Wednesday Adams' discussion of Native/non-Native differential access to power and privilege, as shown to references like who "lives in trailers and sells jewelry on the side of the road,"  and who "wears cardigans and drinks highballs," reflects on the social hierarchies between Native and non-Native communities in a US context and that  are often completely naturalized and taken for granted.
Amjad Majid: Ather has actively shaped the intellectual, literary and academic landscape of Kashmir—especially over the last decade—by establishing spaces like Kashmir Lit: An Online Journal of Diasporic Writing for literary explorations, and Critical Kashmir Studies for academic explorations. She is also involved in multiple intellectual, academic, and cultural forums that are directly connected to or centered upon Kashmir. What forums and spaces are there for the Indigenous communities that are at the center of your academic writing and research and what forums and spaces are there for the type of music you produce and perform within such communities?
Kristina Jacobsen: In addition to the multiple forums for "rez bands" that exist on Navajo Nation, Diné musicians and artists have also created some other important platforms for the exchanging of ideas, art and social justice. Among many, many others, these include "Music is Medicine," a non-profit founded by musicians Chucki Begay and Ritchi Anderson, Jr. (of Chucki Begay and Family Band), various initiatives by Diné musician and hornplayer, Delbert Anderson and his group, the Delbert Anderson Trio, rapper and spoken word artist, Def-i, the Native American Composer Apprentice Project, singer and recording artist Radmilla Cody, composers Connor Chee and Raven Chacón, and entities working to ensure the ethical treatment of Diné musicians in "border towns" surrounding the Nation such as the Navajo Nation Human Rights Commission. There are also Native run labels such as Diné owned Chapterhouse Records (@WWCHD) and the Indigenous performers' collective, @NativeGuitarsTour.
In my own sphere, I have been lucky enough to be able launch a number of artist initiatives, including hosting an open mic on Navajo Nation (in the town of Chinle), a monthly songwriter showcase in the city of Albuquerque, New Mexico (the place I now call home), and two, week-long international songwriting workshops I founded and co-facilitate that focus on collaborative songwriting and intercultural exchange. One of these is held yearly on the Navajo Nation, and is open to Diné citizens from high school students to veterans, and the other will be held for the first time on the Italian island of Sardinia in May 2022. These workshops focus on cultural immersion in rural communities and paired cowrites between songwriters from Navajo Nation and Sardinia and songwriters that arrive from elsewhere, facilitating dialogue and storytelling in the form of songwriting.
Over the last five years, I've also begun teaching songwriting and ethnography workshops and classes in spaces of incarceration and among refugee communities. Most recently, I've done this in the US, Finland, Sweden, and Italy. Last, I founded and front the Merle Haggard-inspired, feminist, all-girl honky tonk band, Merlettes. More recently, I have been involved in creating a new Songwriting Focus Area at my University, so that students coming to UNM can hone the craft of songwriting, mindful performance and community building through songwriting that prepares them to be successful, community-engaged performing artists after they graduate.
Amjad Majid: Thank you both for this creative collaboration that sparked this fascinating and unique interview.
The view, opinions, and perspectives reflected in this interview are the interviewer's and the interviewees own and do not reflect those of Inverse Journal. For more information, check the Editorial Disclaimer at the bottom of the page.
Kristina Jacobsen Music Website
Kristina Jacobsen, SingerSongwriter: Honky Tonk Americana
Kristina Jacobsen | Academia.edu
Academia.edu page for professor Kristina Jacobsen
Kristina Jacobsen | Youtube
YouTube page for professor Kristina Jacobsen featuring her latest album, "House on Swallow Street"
Kristina Jacobsen, PhD
Academic and research website for Professor Kristina Jacobsen
Kristina Jacobsen | Spotify
Kristina Jacobsen's music on Spotify
Kristina Jacobsen on Soundcloud
Kristina Jacobsen's music on Soundcloud
Kristina Jacobsen | Elemental EP | 2018
These six songs trace central elements in our lives over the last year and a half including travels and touring in Scandinavia, Italy and the Appalachian mountains, a move out of state, performing in bands together and on our own, and our own travels back and forth between New Mexico and Colorado to write, perform, record radio shows, teach masterclasses and collaborate with one another in an interstate Songwriting Group.
Kristina M. Jacobsen | Associate Professor of Ethnomusicology
Academic Page from University of New Mexico Department of Music
Kristina Jacobsen on Bandcamp
Bandcamp page for Kristina Jacobsen
Ather Zia - Associate Professor | Anthropology and Gender Studies | Humanities and Social Sciences
Ather Zia, Ph.D., is a political anthropologist, poet, short fiction writer, and columnist. She is an Associate Professor in the Department of Anthropology and Gender Studies program at the University of Northern Colorado Greeley. 
Two Kashmiri Ghazals by Ather Zia | Inverse Journal
Ather Zia recites two of her ghazals in Kashmiri for a people and their land, where the idea of a "prolonged longing" has emerged, such that time is always out of joint because space has been bent and constricted. It is in such spaces and under such circumstances where the poetic verse resists despair and gives form to grief, while sustaining hope.
Mrs. Bhat's Kashmiri Fish Dinner | Guernica Mag
"I swear by my entire family, I am just a woman, not a fidayee, I will show you what is in the basket," Mrs. Bhat pleaded, her face swollen with crying.
Fiction by Ather Zia
A poetic response to 'electoral politics' in Kashmir: Tott, by Ather Zia | Free Kashmir Press
The poem, Tott (Beast of burden) is a historied poetic response to the 'electoral politics' in Kashmir
Poems Written in Srinagar: the city under siege : Ather Zia | Cerebration
Ather Zia is an anthropologist, poet and fiction writer. Her work has appeared in a number of magazines. Her first book of poems is titled "The Frame" and she also edits the journal, Kashmir Lit. Ather is also a faculty member at the University of Northern Colorado where she teaches anthropology and gender studies.
Tonight in Kashmir | India Cultural Forum
Ather Zia
August 14, 2019
Poems for Kashmir
KashmirLit: An Online Journal of Kashmiri & Diasporic Writing
Kashmir Lit is a platform for all those interested to write about Kashmir, particularly Kashmiri and diaspora writers.
Resisting Disappearance: Military Occupation and Women's Activism in Kashmir
By Ather Zia
Series edited by Piya Chatterjee
PUBLISHED: June 2019
ISBN: 9780295744988
a day in a life that inches prayer by prayer | ADI Magazine
essential reading in Kashmir / are the epitaphs
ATHER ZIA
i. will. cross.| Sapiens Anthropology Magazine
By Ather Zia
In a SAPIENS contest-winning poem by a Kashmiri anthropologist, the threats posed by crossing the Line of Control, a highly militarized de facto border, are faced down by a lover of freedom.
'They want us to write. In blood.' Four poems on Kashmir | Scroll.in
A selection of yet-to-be-published poems on life – and death – in the valley.
Ather Zia
Select Children's Stories by Ather Zia | Zaanvun Lokchaar
Gula of Kashmir: Tales from the Spring of Verinag

Loving, Dying (or being Killed) | Cerebration
In the loving memory of all those who died in the Summer Uprising of 2010.
Select Writings by Ather Zia | The Mantle
The Mantle publishes globally diverse voices who offer unique insights into social, political, and cultural subjects to educate the intellectually curious, bridge cultural gaps, and foster empathy. 
Book Review: Resisting Disappearance: Military Occupation and Women's Activism in Kashmir by Ather Zia | LSE Blog
In Resisting Disappearance: Military Occupation and Women's Activism in Kashmir, Ather Zia explores the everyday resistance of women activists in Kashmir who focus public attention on the Kashmiri men disappeared by government forces. Effectively capturing the agency, memorialisation and resistance of these activists, this poignant and evocative ethnography will be of interest to students and academics working in the fields of anthropology, sociology, gender studies and critical Kashmir studies, finds Aatina Nasir Malik.
PARTITION POEMS | The Shoreline Review
In Kashmir: Writing Under Occupation
BY ATHER ZIA
GAG, HOME, KILL: Three Poems by Ather Zia | Asian American Writers' Workshop
By Ather Zia
rises, bloodied, and breathing and begins walking as if in hope. / of being heard.
Poems for Kashmir | on Academia.edu
By Ather Zia
From Blaze Vox 12
Verse Journal of the Kashmir Siege | SOCIETY FOR CULTURAL ANTHROPOLOGY
By Ather Zia
When I asked if there would be a war, they replied "did it ever end?" and continued their song.
ETHNOGRAPHIC POETRY: A CONVERSATION WITH ATHER ZIA | Allegra Lab
This interview with Professor Ather Zia was conducted on March 31, 2018, at the University of Michigan (UM) where she delivered a keynote at a Women of Color poetry event organized by UM graduate students.