Zahida War presents a piece of fiction that combines poetry and prose to narrate the story of a young Kashmiri woman, Zooni, who returns to her birthplace after living abroad (India) for several years. In the process of her return, Zooni becomes raveled in the militarized reality of Kashmir and its grotesque violence, far from the touristic imaginarium that her host country had built in her mind. Still a young student, Zooni leaves all familiarity behind, along with the illusions formed in her understanding of Kashmir, to engage with a place that is confined to countless devastations, multiple horrors and endless human tragedies. This fictional piece was written in 2016, a painfully symbolic year for Kashmiris, and is accompanied by an afterword by its author.
Muzaffar Karim brings us an excerpt from his post-apocalyptic novel set around 2050 when a nuclear attack by India has wiped off Kashmir from the face of the earth, leaving behind a few survivors. Among them, a few people are still fighting back, including Qais, the narrator, who is part of the Resistance. Qais's only companion, besides Hamdan, is an old charred children's book miraculously discovered beneath the rubble. The book narrates the story of the magical valley of Ka and the subsequent weakening of that magic due to the conjured up 'Grandspell' by surrounding evil neighbors.
The past few months have pitted us against an apocalypse. The city around us is attaining a new meaning. In this excerpt (Chapter 9 of the novel) Qais and Hamdan reactivate the wrecked subway and see Kashmir from a different perspective.
Jai Anbu's "Betel Leaves" is a satirical novel about social and religious prejudice against the Dalits' struggle for identity, dignity and freedom in present day India.
A silvery brook meanders way through a village towards paddy fields. Here extremes of beauty and poverty exist side by side. The Dalit villagers scratch a living from the fields. They are easy prey for corrupt politicians who steal their land, even those places reserved for funeral pyres. Guruji, a spiritual master, has come to their village and bought the land.  He builds an ashram from where he plans to enlighten the world. Trouble erupts when the villagers cross the boundaries set by the dominants.
Academic and writer Muzaffar Karim translates and introduces Jaun Elia's "The Garbage Dump of History," a piece originally titled "Jannat Jahanam" in Urdu that appeared in Suspense Digest (July 2000). Karim's introduction and subsequent translation situate international readers beyond Elia's widely known poetic and academic work, bringing us closer to Elia's thoughts on Kashmir before, during and after partition. In the process, Karim's translation reveals a deep sense of empathy, expressed as irredeemable angst that the poet, scholar and philosopher felt for Kashmir and its people, and particularly its disenfranchised Muslim majority. By way of translation, Muzaffar Karim retrieves a piece of writing that serves as a relic or a historical document to register the desperation, angst and nihilism that has festered for decades as Kashmir has remained besieged and exiled from any semblance of peace. That that desperation and angst is expressed by Elia via this translation by Karim makes it even more symbolic of the hostile and unchanging times.
As a researcher in Psychology, Amir Sultan writes about relevant concepts and terms developed in his field through academic research done on two particular cases of cold-blooded murder. The piece offers interesting observations about studies in Psychology that relate to the world of news reporting. Some of the events discussed and referenced via hyperlink to their direct sources are of a violent nature. Reader and viewer discretion is advised for those sensitive to such events covered widely in the news.
Under Covid-19 confinement, Saima Afreen presents a non-fiction piece written in a literary style that allows the writer to venture far beyond the subjects of its title, into an introspective engagement with her experiences and memories to the greater visions before her, in a 'mind state' of lockdown that is relatable to many yet communicable by few. The writer provides articulations that oscillate between poetic imagery and literary prose to shape an experience of preventive pandemic lockdown from the Indian cosmopolis, traversing into a territory outside of solitude and well past the quarantined self.
Traversing multiple geographies, actual and digital, Yuan Changming brings us five poems in Chinese, with translations in English made by the poet himself. In conjunction, these five communicate a journey from the village to the city and back, from the digital stratosphere to landscapes of our natural world, from the East to the West and vice versa, bringing together verses that ultimately shape a journey into memory while offering a pause on the sidelines of recollection.
Young poet Samuel Junior Irusota from the Edo State of Nigeria brings us a haunting poem burdened by death, destruction, perseverance, hope and the lack thereof. This poem was originally published as part of our international selection of poetry titled "Verses of Lament and Dissent — First Issue."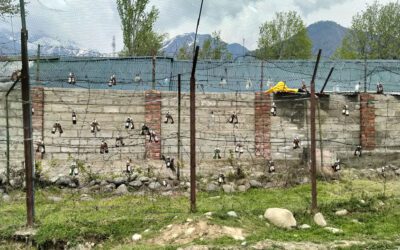 Kashmiri poet Rumuz E Bekhudi brings us three poems that, although reflecting on the present predicament that Kashmiris are faced with, go far beyond to trace the lines where dispossession, suffering and tyranny are drawn, and with them the space where resistance is born and persists. These three can be read as individual pieces of poetry but remain tied together under the title "Pickle of Grief" because aside from the complex emotions that emanate from such verses, grief is perhaps the most palpable and common. Readers are advised to expect verses that are not easy to behold given the violence and brutality from which they emanate. However rigid the nature of such violence, it leaves cracks from where such poetic verses find momentum.
"The intent for writing this piece arose from a desire to note a historic event for the people from the Northeast," writes Enatoli Sema in her commentary on "Axone," a film she considers a "critical piece of art." In response to the film and what it inspired in the writer, Sema first reflects on her heritage, culture and its intrinsic value and secondly, on the "unacceptability of discrimination."
Immerse yourself in the energetic, innovative and potentially illegal world of mash-up media with RiP: A Remix Manifesto. Let web activist Brett Gaylor and musician Greg Gillis, better known as Girl Talk, serve as your digital tour guides on a probing investigation into how culture builds upon culture in the information age.
In what Kashmiri writer Mirza Waheed has interrogated as "the world's first mass blinding," here is the story of 18-year-old Farzan Sheikh, who was blinded by pellets fired by Indian government forces a year after the horrific four month curfew of 2016. During that year, "17,000 adults and children" had "been injured" and "nearly five thousand" had "been arrested", while "an entire population spent the summer under the longest curfew in the history of curfews in Kashmir." However, with so many Kashmiris blinded through the use of pellet fire, the state's policy did not change. In 2017, Farzan became yet another target of such violence while attending a funeral procession. Azad Essa and Horia El Hadad present his story in this short documentary. Relevant links included.
Kashmir-based rock band Ramooz releases the music video for the first track from their upcoming album conceived and recorded during eight months of lockdown in Srinagar. The song "Aalav", performed in Kashmiri, is infused with emotive lyricism matched by the evocative imagery of its music video. While some might engage with this music video from the frame of a "memoryscape", its lyrical range and complex scenography ventures equally into the terrain of a "dreamscape", where disjointed subtexts and multiple motifs point to a story outside of the frame and hidden deep within its contours. As such, "Aalav" (the call) is as evocative as memory and as elusive as dream, and not easily served to literalists. Video credits, relevant links and lyrics included.
Indigenous knowledge has been marginalized and excluded through a system based on a worldview that perpetuates colonialism. The actions and attitudes of nation-states and academic bodies deem, recognize, and value certain ways of knowing as "superior," which marginalizes knowledge from Indigenous cultures. Considering an educational philosophy that puts the knowledge and worldviews of local cultures at its heart is an urgent step towards changing this situation. In this text, I discuss the implementation of Styres's (2017) Land-centred philosophical proposal in music education. This approach is built on the understanding that Indigenous knowledge has the same value as knowledge that comes from hegemonic Western centres. This perspective proposes to disrupt the role of Eurocentrism that accepts or rejects different ways of knowing and (re)centers Indigenous knowledge and worldviews.
The latest installment of Kashmiri Hip Hop brings us "Khoon Rezi", a track by young artists Tufail Nazir and Aatankki who integrate fierce and unapologetic lyricism with a subtle yet steady Trap beat. The track is produced by Semmi On The Beat, mixed and mastered by Ahmer. The music video is directed and edited by Aatankki himself, with Zuhaib Bhat on the camera and drone cinematography by Junaid Bhat / Fx Studio. Lyrics and relevant links included.
Countries and territories
Kashmiri and international contributors
In Akshay Sethi's artistic oeuvre, the artwork can become a site of excavation, revelation and disambiguation, bringing forth visuals of that which otherwise remains undermined, ignored, unnoticed and relegated to a process of continued invisibilization—one that exists at the core of the everyday and the quotidian. Here the Delhi-based emerging artist presents a collection of his own works divided into two projects, with proper introductions and a few summarized commentaries about each set of works as part of Inverse Journal's initiative to have artists of all generations write for themselves and present their work in their own words.
In these works, Sethi explores the fine line between the personal and the political, one that exists in a material form but that goes unperceived were it not for the creative impetus of the artist to frame a re-envisioning of the personal within the political—and vice versa—situated metaphorically in the object of art. Through the artistic medium, the young artist's practice invites multiple inquiries into what otherwise would simply pass along as "day-to-day happenings" or a series of events confined to news reports and headlines that trend and subside into a collective oblivion or a collective memory—framed and curated by mainstream and mass media—once their trending impact has reached a specific shelf life. It is here that Sethi's work interjects to excavate for a greater human profundity within the personal and the political to transcend event, subject, group, collective as mere 'happening on the street', breaking away from the quotidian limits set upon everyday life by a variety of circumstances and conditions. The result is a poetics that can best be observed in the works themselves as the young artist works to develop and refine his art practice.
To delve deeper into a greater human understanding, Sethi often engages with literature, poetry, news media, contemporary culture and tradition by shaping his works as points of convergence between these while imbuing such works with a spirit of critique where resistance and criticality can take shape in multiple ways. The young artist's engagement with various forms of literature is essential to the meaning-making that fiction writing offers, in a world where many times sense and sensibility seem lacking or absent.
Emerging Kashmiri artist Khytul Abyad brings us two of her illustrative works that can be viewed as standalone pieces or part of a greater patchwork that tells the story of her birthplace. Khytul has operated exclusively in the realm of Kashmiri contemporary art since her recent days as a student, working as a visual artist exploring different mediums and styles to develop a visual vocabulary of her own. Here she presents two pieces that venture into the realm of storytelling via illustration in line with the graphic novel. At the present, the graphic novel has yet to move beyond Sajad's quintessential "Munnu" that set the stage, with other younger artists exploring the genre and medium through their own visual language and stylistic approaches to visual storytelling. Other visual storytellers who produce comics, political cartoons and illustrations have long maintained their signature styles and visual language without ever having the need or the desire to go into this long-form medium.
Such creative choices notwithstanding within that limited genre, another graphic novel, Naseer Ahmed's "Kashmir Pending" with illustrations by India Today's illustrator Suarabh Singh has followed as a work by multiple creators, Kashmiri and non-Kashmiri, reflecting the many directions that the Kashmir-themed or Kashmir-set graphic novel can take. However, as far as a graphic novel by one author and that too a young woman artist is concerned, Khytul's artistic explorations presented here show promise in broadening the genre of the Kashmiri graphic novel even further, with an amplified diversification of sorts brought about in just over half a decade. With such considerations in mind, here are two storyboarded tales of fiction that permeate into a reality that is all too familiar to many Kashmiris. Such stories are located within the forgotten corridors of Kashmir's everyday life, remaining unexpressed, silenced and made invisible up until young artists like Khytul engage their artistic sensibilities and artcraft to excavate the memory, experiences, and the lives of others, otherwise relegated to oblivion and brought to the fore by artistry such as Khytul Abyad's.
This piece includes a note from the artist and relevant links from press  (courtesy of Inverse's bibliographic approach) to familiarize viewers/readers about this young artist's work.
Here is the video and discussion for the book launch of "Marking Time: Art in the Age of Mass Incarceration" (Harvard University Press, 2020) by Nicole R. Fleetwood, hosted by MoMA PS1. All media directly embedded from the original source. We have included relevant links to familiarize viewers and readers with the book and its author's work.
Staci Gem Scheiwiller explores the path of transformation that defines the Qajar family photograph, tracings its roots to Qajar painting and to the earliest examples of photography in Qajar Iran (circa 1839). Republished here from the Trans Asia Photography Review (Volume 9, Issue 1), via CC-BY-NC-ND-4.0.
Swasti Acharya presents a series of photographs that she produced seven years ago, in June of 2013. The series "Before the Lockdown" retrieves, as photographs often do, what is set to be lost or displaced in one way or another (as memory or as something else). In such images, the eternity of a time past reverberates in visuals of everyday life, beyond the limits of enforced change and beyond a controlled liminality that has continuously besieged Kashmir, as if it were some sort of a "liminal space" made such for its own inhabitants (if one is to be reminded of the martial reality that exists beyond such innocent and unassuming visual framing). In more ways than one, Acharya's visuals of Kashmir elucidate how photography is an art where "capturing" and "retrieving" can be harmonious and not disruptive as far as image-making is concerned, and that too through the unfamiliar lens of an unaccustomed outsider who goes back in time to recover visuals of something that tomorrow might not remain the same or might altogether have been forcefully transformed into something else. This series is published with a note by the young photographer along with relevant captions that go beyond any editorial framing and interpretations presented in this editorial introduction.
In this series of photographs, Mir Yasir Mukhtar diverts his lens to portray everyday life in Kashmir beyond the horrors that are captured by professionals from his field of photojournalism. In habitual scenarios, it is almost impossible to avoid images of war, conflict, tragedy and violence. However, as the images themselves communicate, an alternate Kashmir, and with it an alternate Srinagar, exists to show how Kashmiris try to live on a daily basis while being at the focal point of the oldest unresolved geopolitical conflict of global modernity.
Enrique Dussel is considered one of the founding philosophers of liberation in the Latin American tradition, an influential arm of what is now called decoloniality. While he is astoundingly prolific, relatively few of his works can be found in English translation — and none of these focus specifically on education. Founding members of the Latin American Philosophy of Education Society David I. Backer and Cecilia Diego bring to us Dussel's "The Pedagogics of Liberation: A Latin American Philosophy of Education", the first English translation of Dussel's thinking on education, and also the first translation of any part of his landmark multi-volume work
"Towards an Ethics of Latin American Liberation."
Here is the video and discussion for the book launch of "Marking Time: Art in the Age of Mass Incarceration" (Harvard University Press, 2020) by Nicole R. Fleetwood, hosted by MoMA PS1. All media directly embedded from the original source. We have included relevant links to familiarize viewers and readers with the book and its author's work.
Inverse Journal reproduces "The False God of Military Suppression" (pp. 174-83), an essay contributed by Gautam Navlakha for the anthology "Until My Freedom Has Come" (edited by Sanjay Kak, Penguin Books India, 2011, and Haymarket Books, 2013). Gautam Navlakha was taken into NIA custody yesterday, on April 14, 2020. 
The excerpt is republished with the permission of the book's editor. Relevant links embedded from their original sources have been included at the end of this excerpt as a sort of visual bibliography.
Gareth Williams evaluates the "subalternist turn" in Latin American postcolonial studies by seeing it through three of its variants. This paper is essential reading for those, particularly in South Asia and elsewhere, seeking to familiarize themselves with Latin American postcolonial and subaltern studies. It includes a comprehensive bibliography and key references to some of the most fundamental texts, theorists, philosophers and scholars who established multiple and distinct lines of inquiry in the field. Originally published in Política común (Volume 10, 2016) and reproduced here as is via CC 3.0.
ABSTRACT: Even as a growing body of literature has in recent years revealed the ubiquity of racialized violence within Western colonies in Africa, Asia and the Middle East, another historical narrative remains insistent that the British Empire constituted a notable exception to the rule. This nostalgic narrative of a uniquely British 'soft approach' rests in part on the belief that colonial officers possessed a deep cultural understanding of the people and societies they dealt with, which allowed them to manoeuvre skilfully throughout the Empire without having to resort to the sort of atrocities that characterized German and Belgian colonies in Africa. The result is an implicitly sanitized account of the British Empire and of British military practice as exemplary and even humane. This article critically examines those assumptions, focusing in particular on the cultural knowledge that was weaponized during colonial conflicts in the decades preceding the First World War. The forms and functions of what became known as 'savage warfare' were not simply shaped by the tactical necessities of asymmetric fighting in the peripheries of Empire. Colonial military violence and the development of new technologies, such as the expanding Dum-Dum bullet, were based on deeply encoded assumptions concerning the inherent difference of local opponents and as such were underwritten by both imperial ideologies and a specific body of colonial expertise. The rule of colonial difference dictated and justified techniques of violence that were by the same token considered unacceptable in conflicts between so-called 'civilized' nations and, in many instances, slaughter was in fact the 'British Way' – in theory and in practice.
The goal of this paper is to present a decolonising research methodology. The first section of this paper problematises western knowledge production, using Aníbal Quijano's colonial matrix of power. The second section theorises how an epistemological pluralism that is critical, decolonising and performative could address western knowledge production and the colonial matrix of power. The third section discusses how this methodology has been applied to Butoh to develop Critical Butoh. The final section presents He rawe tona kakahu/ She wore a becoming dress, a Butoh performance exploring the intersection of gender and colonisation, as a practical application of this methodology.
Huthuka Sumi explores the implications of Amazon and Flipkart's listing of specific garments as "traditional" Naga attire. He questions the stereotyping of indigenous people, particularly those in the Northeast of India, as "beautiful savages," and the processes involved in assimilating into the mainstream.
In a continuing series, Muzamil Jaleel presents his latest opinion piece in the Acquaintance section at Inverse Journal. While discussing the High Court's recent ruling over the Roshni Act, Jaleel writes, "By announcing a plan to retrieve the lands instead of acting against influential bureaucrats who transferred the lands illegally, the J&K administration is making clear the essential purpose of the exercise." Read further to get an incisive interpretation on the ruling over the Roshini Act and what it means for Kashmir.
In this opinion piece featured in our Acquaintance section, Muzamil Jaleel argues that the October 26 order repealing and amending a series of J&K laws rolls back over 70 years of reforms that previously empowered the region's Muslim majority.
On August 5, 2019 the Indian state abrogated Articles 370 and 35A of the Indian constitution to make Kashmir a permanent territory within the Indian Union without prior consent or consultation with the people of Kashmir. For months, the Kashmiri press, television, media, mobile, telephony, internet and other essential services and institutions were shutdown under government order while dissidents, activists, and even government-sponsored politicians were put under arrest.
It became meaningless and practically impossible to keep this journal — dedicated to contemporary culture from Kashmir and around the world — running while Kashmir was put under unprecedented siege and lockdown. This special section of the journal was born out of necessity, to compile and directly cite various articles and sources from recognized media and academic institutions about what was unfolding in a Kashmir placed under complete blackout, siege and lockdown while millions of people were kept silent.
The curated selection presents Kashmiri voices and offers a perspective on such impositions from members of the Kashmiri press, academia, independent Indian and international media through proper citation and bibliographical reference. It also includes a variety of accounts from those whose basic freedoms were taken away.
All the articles, videos, media, academic articles, and other such content are cited and linked to their original sources, since Inverse was intended to be a space of cultural engagement in the arts and humanities, with a dedicated focus on academic thinking and contemporary cultural production. All of such editorial plans became impossible, blockaded by the collosal shifts enforced upon Kashmir and its peoples.
In memory of these events — and their ongoing impact on Kashmir and its peoples — this section has become a permanent part of this journal. For legal concerns, see the Editorial Disclaimer at the bottom of each page on this platform. 
Amjad Majid
Founding Editor
Inverse Journal
Prominent figures from academia and worldwide press along with several researchers and scholars have endorsed a written a letter and its petition to the UN and several international organizations to demand protection and freedom of press for Kashmiri journalists "charged under the draconian Unlawful Activities (Prevention) Act (UAPA)" that "can carry jail time of two to ten years" and without bail, for doing their job as journalists reporting from and about Kashmir. The letter covers the last few years of state-sanctioned targeting of Kashmir journalists, particularly since August 5, 2019, when India revoked Articles 370 and 35A while maintaining Kashmir under a media, communications, telephonic and press lockdown that a wide majority of Kashmir observers, scholars and experts have called "a siege." With only 2G internet and mobile telephony restored recently and the press allowed to operate under constant threat of persecution in Kashmir, a new series of cases have been filed against Kashmiri journalists through the "Unlawful Activities (Prevention) Act (UAPA). Inverse Journal has embedded this letter directly from its source and provided a series of "relevant links" embedded directly from their respective sources covering this series of events.
While the world readjusts to handle the Coronavirus, Kashmir is stuck under 2G internet (which was first rolled out in 1995) and without adequate equipment and facilities. As a result, the following letter has been sent from the Kashmir Scholars Consultative and Action Network (KSCAN) and Concerned Academics & Professionals from around the world to the World Health Organization, UN Special Rapporteurs, and various international health organizations. You can view the official letter here. We have included relevant links embedded directly from the original news sources at the bottom of this letter. For more, check out our Kashmir 2019 Siege section.
August of 2019 became a month of insomnia, despair and nightmare-ridden sleep for most Kashmiris, and particularly for those who were stranded away from home while Kashmir was put under a media, telecommunications, internet, broadcast news and public transport blockade unshy from being a complete lockdown and siege. Kashmiri poet and writer Omair Bhat presents his personal log of the first two weeks of such restless nights and tiresome days, when desperation competed with grief and anger to suffocate people like him in an endless uncertainty.